A man was heard screaming "wahala don Bursts oo" from behind the screen as he narrates the ordeal.
The incident was said to have happened around Samonda area of Ibadan, Oyo state.
The said Bride-lady had promised two men marriage before now, the other man heard and decided to intercept her motorcade on her wedding day.
Read Also:
Early Signs Of Sexually Transmitted Disease You Should Not Ignore
Chilling Videos Show Deranged Man in New York Go on Shooting Spree Kill!ng and Injuring Pedestrians in Broad Daylight 
The estranged fiancee took the decision to erupt on her Deal's day to burst the bubble of a Pregnant bride, claiming the pregnancy belongs to him.
The Groom was also sighted to be Fuming, his friends and groom Men were seen pleading with him to take cover in the car provided to convey them to the WEDDING RECEPTION, The lady was later seen to have collapsed when the GROOM removed his wedding Band & threw on her, while other concerned citizens interfered and persuaded the Angry Man to remove his Car from the Blocked convoys for the new Couple.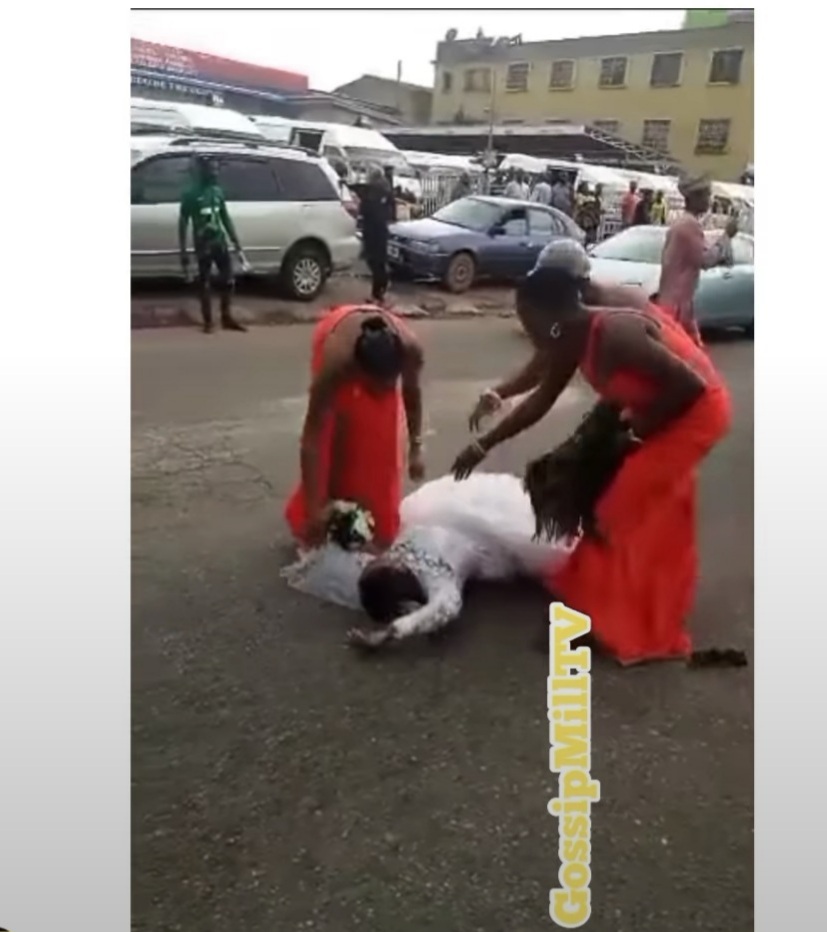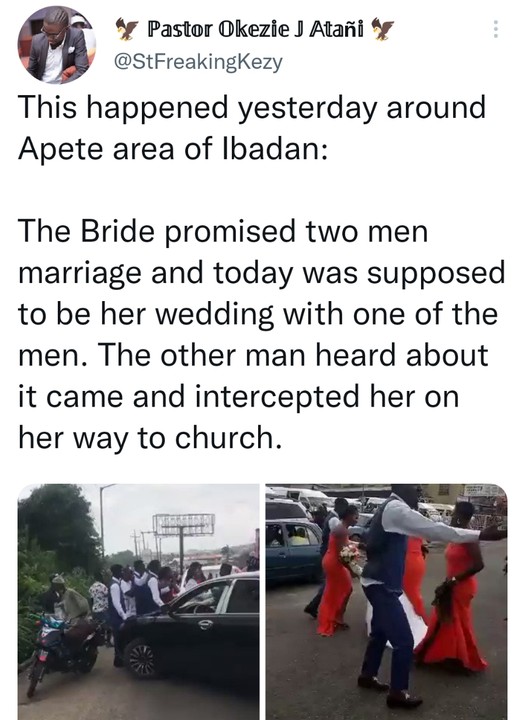 This happened yesterday around Apete area of Ibadan:
The Bride promised two men marriage and today was supposed to be her wedding with one of the men. The other man heard about it came and intercepted her on her way to church.
See the video below:
This happened yesterday around Apete area of Ibadan:

The Bride promised two men marriage and today was supposed to be her wedding with one of the men. The other man heard about it came and intercepted her on her way to church. pic.twitter.com/vkDC68e1ef

— ???? ℙ???????????????????? ???????????????????????? ???? ????????????ñ???? ???? (@StFreakingKezy) July 9, 2023