An interesting video clip which is making the rounds online captures the near tragic moment a man got jittery when his wife picked up his phone.
By Henry Iheanacho
The man was inside a swimming pool and it seems he is a beginner, so he decided to use a life jacket.
Man Seen Flogging Bus Driver with Koboko for Bashing his Expensive Car (Video)
While he was relaxing inside, his wife briskly walked over to where he dropped his phone and picked it up to scroll through.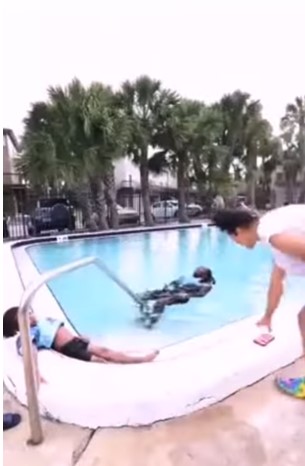 His daughter immediately screamed to alert him and he tried to step out of the pool but be lost his balance and started drowning.
Four Nigerians Arrested in Philippines for Allegedly Forging Government IDs, Other Documents after Being Exposed by a Lady 
The woman had to drop her phone and dive in to save her husband, who then hid the same smartphone the moment he got hold of it.
See  the video below:
View this post on Instagram