By Henry Iheanacho 
A Nigerian man living abroad has reportedly found himself being restrained from going to his oyibo neighbour's house after she found out he enjoys a particular type of meal.
Wondrous Moment a Lady offloaded her Padded Backside after a Successful Outing [Watch video]
The funny story was shared on micro-blogging site, Twitter by the man's friend simply known as Chike who revealed that she obtained a restraining order against his guy.
He revealed that his friend informed his white neighbour of his love for goat meat pepper soup. But the interesting part is that she has a pet which happens to be a goat, and that's why she got an order restraining his movement.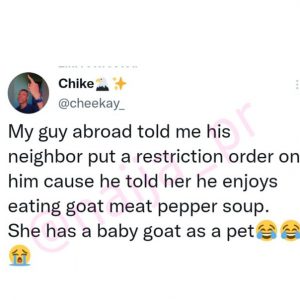 "My guy abroad told me his neighbour put a restriction order on him cause he told her he enjoys eating goat meat pepper soup.
She has a baby goat as a pet", Chike wrote.
@EngbiTammy; precautionary measure on his neighbour's part o
@xtremehigh1; @MetallicNuance girl I feel attacked when I saw this post….! I said this once remember ?
@ruthtilleygyado; I can't even blame the neighbor ?
@KNanbal; But person fit eat dog meat for Yankee so?
@_ace17king; Oyinbo people and nonsense wetin be baby goat something wey una suppose use do sunday evening
@KingKennyx20; Lol. Imagine getting deported for stealing goat. Sigh
@damiakinsanya; Why would you want to eat a member of the labour market