A Ghanaian doctor, Dr. Wilberforce, has narrated how his client who has a heart condition died along with her baby, after refusing an elective Cesarean Section (C/S) because her husband insisted on vaginal delivery.
The doctor, who disclosed this on Twitter, said the woman was offered a CS because her frail heart wouldn't endure the stress of labour.
The woman said she needed to discuss the issue with her husband but never returned until weeks later.
The baby had died and the woman suffered a cardiac arrest leading to her death.
"Client was offered an ELECTIVE (pre-planned] C/S because she has a heart condition. Her frail heart would simply NOT withstand the distress of labor and vaginal delivery! Her reply: " I need to tell hubby about all this first", and she left,' the doctor narrated.
"Never showed up UNTIL Several WEEKS after. This time, in labour; but the baby's heart had stopped beating. Baby was dead [IUFD], for days, even. When confronted, husband was like: "I had an AGREEMENT with God that my wife will deliver normally
Read Also:
Corps Member Laments after Being Sent to a Secondary School with Students that can't Speak English (video)
Soldiers Batter LASTMA Officer in Reprisal Attack (video)
"Long story short, the lady is in the MORTUARY. Her heart gave up – a cardiac arrest
"So a little advice to anyone who might find themselves in this situation, Decisions pertaining your body must be made by only you and you alone. Always put yourself first before the baby. You can always try again if you lose the baby, but if you lose your life, you're done."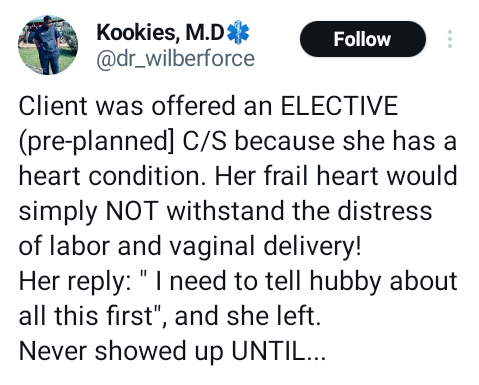 Source: LIB