Ryan is alleged to be have an intimate affair with British influencer, Fiona Michelle.
By Thandiubani
There are alleged reports that British boxer, Ryan Taylor may be having secret affairs with a British model.
This comes days after he proposed to popular Nigerian disc jockey, DJ Cuppy.
Man Confronts VIO Officers for Failing to Use Their Seat Belts While Driving (video)
Ryan is alleged to be having intimate affair with British influencer, Fiona Michelle, according to Sabi Radio.
The revelation emerged after social media users dug up a recent throwback video of Ryan going on romantic dates with Fiona within the week of his engagement.
Also, a video shared on TikTok by the UK model on 10th of November shows her having fun with a mystery man whose tattoos match that of Ryan.
According to unconfirmed reports the model Fiona is also heavily pregnant for the street boxer.
We Just Started Dating Last Month – Nigerian Lady Declines as Boyfriend Proposes with Car Gift (Watch video)
This comes days after Cuppy advised Nigerian women to go in search of a man who is like her fiancé.
Cuppy said Ryan is very obsessed with her and she wants other women to experience same type of love.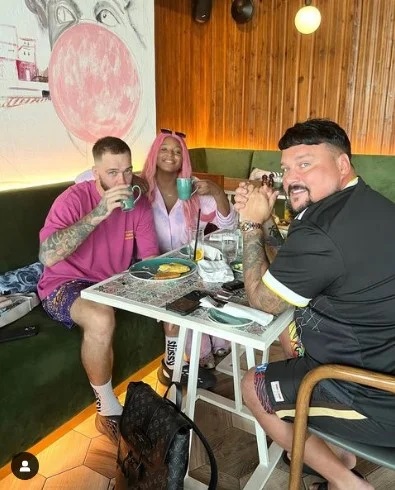 She took to her Instagram story and shared a video of her with the boo making a mirror selfie as they locked lips. It was actually the man who moved in for a kiss towards the end.
"Know your African queen", she said in the clip while gushing.
The DJ captioned; "Get yourself a man that's obsessed with you"
View this post on Instagram
See reactions below:
In reaction, IG user duch_sucre said; Wahala. You guys want to so desperately spoil her joy???
prettiejossie; I knew there was something wrong with the djcuppy man ???. Man just appear from no where and being ring come?. Too much wahala
badgalzeedah; Out of 24hours use 23hours to fear men! ?
call_me_jane1; I no get Wetin I wan talk as e be say djcuppy no see any responsible man for Nigeria na dis werey wen draw tatoo full body
thrift_collector; There was a caught…? God pls send Cuppy a good guy cos she looks like a good person?
yellowmouthdxb; I NO TALK AM? I SAY I NO TRUST THIS GUY UNA NO LET ME REST…
la_doosh; ???I really feel for cuppy. She really deserves someone that will be all in for her. Immediately I heard this guy has engaged 5 ladies before, I knew there was something.