By Henry Iheanacho 
A Nigerian man spotted an underage boy working as a panel beater and filmed him with the intention of posting the video online.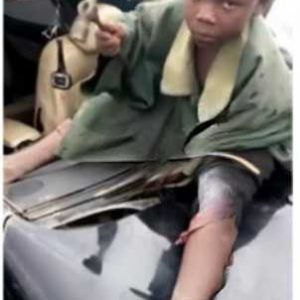 Though the man filmed the small boy working just for the purpose of catching cruise, it however generated mixed reactions.
In the video, the little kid was panel beating a car when the man started teasing him and even hailed him saying 'Oga panel well-done o'. The boy raised his head up and looked at the man briefly before focusing on his work.
Nigerian Man Lands Job at Google after His Girlfriend Begged the Company to Employ Him 
Some social media users thought it was worth laughing over, however, others were of the opinion that a boy his age should not be subjected to manual labour while his peers are in school.
Watch video HERE
https://www.instagram.com/p/CZ41gegjgg6/
Reacting, megastarnaija said; God bless the boy and his future ?????
menace047; This ain't funny to see a young boy go tru struggle.
deewhiteplug; The boy no gree smile ???this one go wicked if e later become oga ???
oduntheone; I get dat some people find it funny, bet jokes aside, he shld actually be in skool
callme_18plus; Ha no b kiriku b that ? Abi my eye ? day pain me ?
High Cholesterol Symptoms: Three 'Physical Changes' Indicative of Hypercholesterol 
patrick_ador; Many people studies mechanical engineering in school and cannot even loosen a knot. This are the real people in Nigeria. Oga finish go put fufu for tire jare.
shemmyy.x; I liked how the guy didn't respond to the derogatory remark ! ❤️?
ozed101; This is so wrong.. He should be in school. We should stop encouraging these things abeg????
chi_tailored; ????? hardworking boy
tinugrills; Catch them young ❤️
oset_bleesmoz; Kiriku junior bro ?