Police in India are investigating a teacher after a video of her encouraging students to slap their 7-year-old classmate, who is Muslim, sparked widespread outrage in the country.
The video of the incident, which took place in the Muzaffarnagar district in northern Uttar Pradesh state, shows the boy standing in front of his classmates as the teacher calls on students to hit him.
Read Also:
New Footage Shows Jenni Hermoso Laughing and Joking on the Team Bus about Luis Rubiales kissing Her after Women's World Cup Final (video)
The boy cries as his classmates take turns to slap him, while the teacher is heard telling the students to do it "properly." A man can be heard laughing as the boy cries while the slapping continues.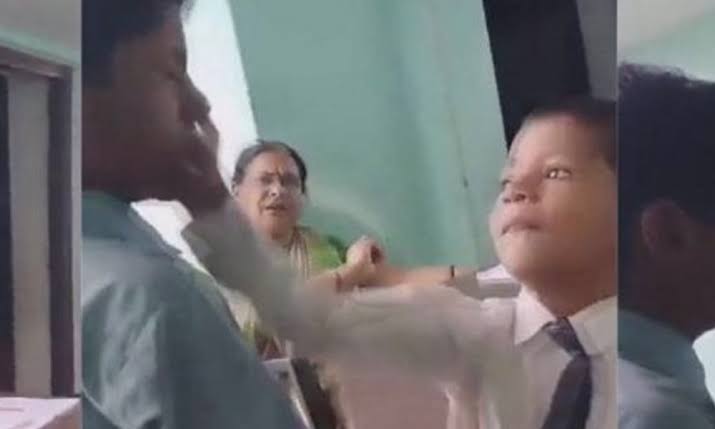 Muzaffarnagar's superintendent of police, Satyanarayan Prajapat, over the weekend, said the teacher told students to hit the boy "for not remembering his times tables."
The teacher also referenced the boy's religion, according to Prajapat.
"The female teacher reportedly said; 'When the mothers of Mohammedan (one who follows Islam) students don't pay attention to their children's studies, their performance is ruined."
Police in the district have registered a case against the teacher and an investigation is underway. The teacher has not been formally charged. District officials have also ordered the school to shut down,
The boy's father told CNN that his son felt "restless and scared" after the incident on Thursday, August 24.
He said that, while the boy is doing much better now, he "was unable to sleep earlier and was left in shock" afterward.
Read Also:
Watch Almajiri Children Scramble For Remnants Of Food Left By A Man
The incident has caused widespread anger and upset in India, the world's largest democracy of 1.4 billion.
Watch the video below.
This week's #IndiaHumanRightsMonitor roundup by #IAMCNews

– Hindu teacher tells students to slap 8yo Muslim boy
– Muslim man lynched to death for chopping wood in forest, forest officials join mob
– Muslim couple lynched after son elopes with Hindu girl

+5 stories pic.twitter.com/dUZP2zbuLs

— Indian American Muslim Council (@IAMCouncil) August 26, 2023
Source: LIB