New footage has shown Jenni Hermoso joking with her Spain team-mates as she showed off a screen grab on her phone featuring Spanish football president Luis Rubiales kissing her on the lips, alongside a photo of former Spanish international Iker Casillas locking lips with reporter Sara Carbonero as she interviewed him live after the men's team won the 2010 World Cup in South Africa.
The footage of the 33-year-old Spanish women's player on the team bus as the players prepared to leave the stadium in Sydney is set to become valuable evidence in the hands of suspended Spanish FA chief Luis Rubiales as he seeks to defend himself against allegations he committed sexual aggression.
Read Also:
Drug Lord Who Stole Cartel's 450lb Cocaine Shipment Is Dumped Alive into Ocean (video)
Drug Lord Who Stole Cartel's 450lb Cocaine Shipment Is Dumped Alive into Ocean (video)
In the video, Hermoso was filmed laughing out loud while another woman on the team bus was overheard laughing: 'Like Iker and Sarah' as Jenni continued to show off her phone.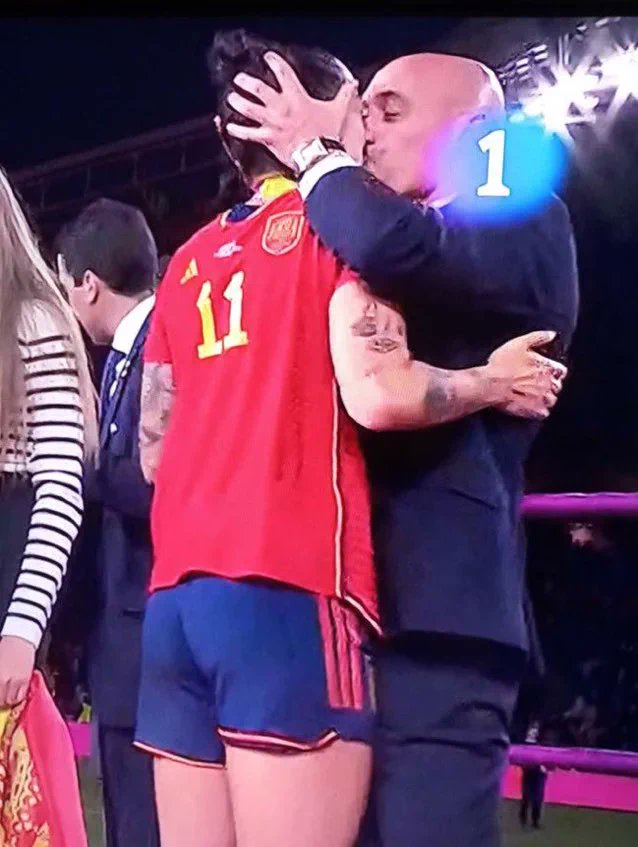 Also, a second unidentified female said: 'Long live the story' as the player drank Cava straight from a bottle.
Jenni, who is being invited by Spanish state prosecutors to be part of a potential criminal prosecution of Rubiales over his controversial action, continued to grin as she responded: 'Haven't you seen it?' before indicating how the kiss which has sparked the 'Kissgate' scandal occurred.
Read Also:
Drug Lord Who Stole Cartel's 450lb Cocaine Shipment Is Dumped Alive into Ocean (video)
Young Man Arrested After Attempting To Buy A Car With Fake Alert In Lagos (Video)
New footage shows Jenni Hermoso laughing and joking on the team bus about Luis Rubiales kissing her after Women
In the video, many of Jenni's 23 team-mates who have said they will refuse to play again for the national team until Rubiales is history, were then filmed singing 'Beso, beso' – Spanish for 'Kiss, Kiss' – as the suspended football chief got on the bus before telling the women jokingly: 'Stop, you're making me blush!'
The leaked footage, posted on X by Alvise Perez, appeared alongside the hard-hitting message: 'Let's begin @Jennihermoso.
1) Why were you showing off with your teammates and posing as you laughed with the meme of your short kiss with Rubiales?
2) Why are all your team-mates who now say they're scandalised shouting with you at Rubiales 'Kiss' on the bus after seeing the peck on the lips?
3) Why did you ask Rubiales jokingly for a kiss on the bus, and why did you laugh when he replied, 'No, you're making me blush?'
'I don't want you to 'say the truth' because Spain today knows it.
'I want you to go to prison.'
The tweet finished with hashtags including one that said in Spanish: 'Take note state prosecution service' and another that said: 'Confess Jenni.'
Hermoso in a statement released last week denied Rubiales' claim that the post-match kiss was agreed during a brief conversion between the pair: 'I felt vulnerable and a victim of an impulse-driven, sexist, out of place act without any consent on my part.
'I want to make it clear that at no time did the conversation to which Mr. Luis Rubiales refers to in his address take place, and, above all, was his kiss ever consensual. I want to reiterate as I did before that I did not like this incident.'
A cousin of Luis, speaking on Monday, August 28 also referenced Hermoso, saying: ' 'What's not normal is that this woman is overjoyed because she and her team have won the World Cup and three days later she's saying she's been sexually assaulted.
After FIFA named the Spanish football chief from football matters, the RFEF released a statement saying;'Ms. Jennifer Hermoso, with her arms, grabs the RFEF President from behind, while Mr. President has his arms loose on the upper part of the player's back. Therefore, no force could exert.
'You can see how Mr. President has the heels of his feet raised slightly.'
The RFEF explains: 'Ms. Jennifer Hermoso keeps her arms around Mr. President's back. Mr. President keeps his arms on top of the player's body.
'It is verified how Mr. President already has much higher heels.'
Only one of Rubiales' feet is visible in the photo.
Watch the video below:
Empecemos, @Jennihermoso:

1. ¿Por qué presumías con tus compañeras y posabas entre risas con el meme de tu pico con Rubiales?

2. ¿Por qué todas tus compañeras que ahora se escandalizan gritaron contigo a Rubiales "que se besen" en el autobús tras ver el "pico"?

3. ¿Por qué le… pic.twitter.com/7HjjdpJVLc

— Alvise Pérez (@Alvise_Oficial) August 29, 2023
Source: LIB