About 30 people were killed and over 100 injured, when a petrol station in the Caucasus republic of Dagestan erupted in a huge explosion, Russia's emergency situations ministry said Tuesday, August 15.
Read Also:
Former Liverpool star, Fabinho Gifted Expensive Rolex by a Saudi Arabian Fan Because He Played Well on His Saudi Pro League Debut for Al-Ittihad (video)
Doctor Narrates How Pregnant Woman with a Heart Condition Died after Refusing CS because Her Husband "had an Agreement with God that She Will Deliver Normally "
The disaster in the regional capital of Makhachkala was triggered late Monday evening after a fire broke out at the fuel station, according to Russia's Investigative Committee for Dagestan.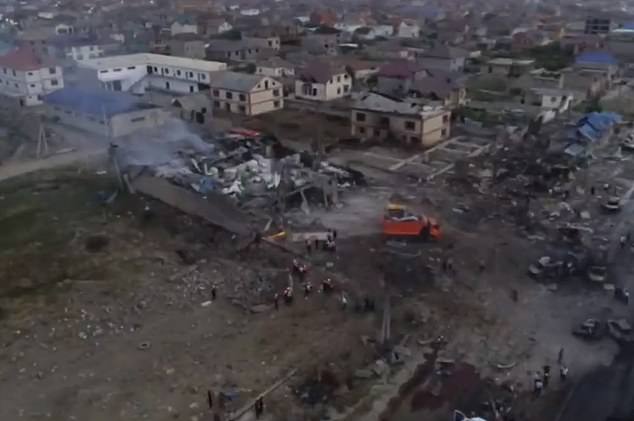 Local media reported the fire was sparked at an adjacent car repair shop and spread to the petrol pumps.
Several buildings and cars nearby were damaged by the blast, which completely levelled the petrol station.
The blaze raged overnight as emergency workers desperately tried to evacuate the injured, and some 260 firefighters were deployed to extinguish the flames early Tuesday morning.
Images from the scene taken this morning showed how the petrol station was reduced to rubble.
Russia's Interfax news agency claimed three children were among the 30 killed in the blast and resulting fire.
'A total of 102 people were injured as a result of the incident, of whom, unfortunately, 27 died,' the emergencies ministry confirmed on Telegram this morning, before increasing the death toll to 30 and the injured to 105.
A witness quoted on Telegram by the Russian daily Izvestia said the fire started in an area where cars were parked and spread to the petrol station.
'After the explosion, everything fell on our heads, we couldn't see anything anymore,' said the witness, who was unnamed.
'It's like a war here,' another witness said.
A government Il-76 aircraft carrying medical equipment was dispatched to Makhachkala to evacuate the seriously injured to Moscow, it added.