It all started after Roma's Europa league final defeat to Sevilla. Roma's coach, players, and fans feels they could have had a clear penalty during the game, which the Referee Anthony Taylor failed to award, and also refused checking the VAR.
The game ended 1-1 Full time. Sevilla won on penalties to condemn Roma manager Jose Mourinho to his first defeat in a European final after a match which saw Premier League referee Taylor dish out 14 yellow cards, the most ever in a Europa League game, and play almost 30 minutes of stoppage time in total.
Earlier, Roma's Coach, Jose Mourinho confronted the referee in the car park, immediately after the game:
Jose Mourinho confronted English referee Anthony Taylor in the car park and called him a "f***ing disgrace" after Roma's Europa League final defeat to Sevilla.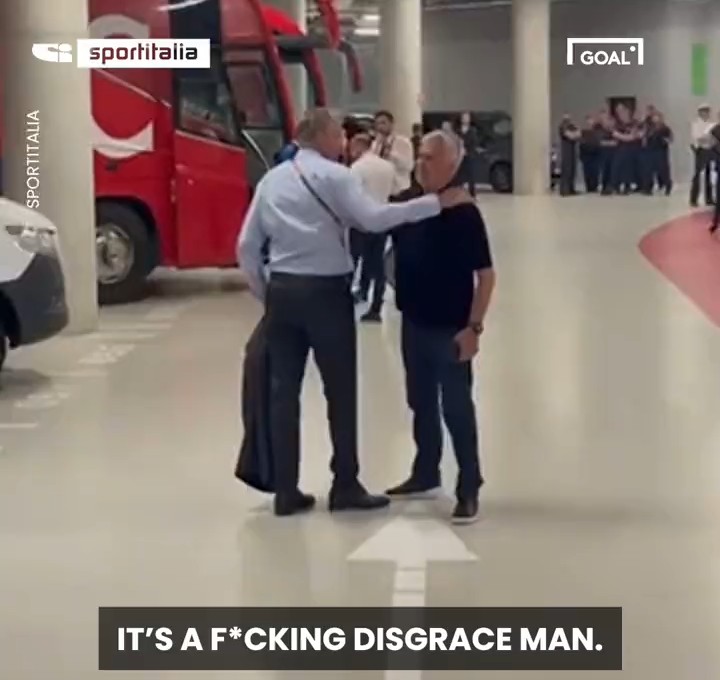 Mourinho's Roma side were beaten on penalties in Budapest in an ill-tempered match as Sevilla won the Europa League for the seventh time.
The manager was furious with Premier League official Taylor during the final at the Puskas Arena, with the referee showing a total of 13 yellow cards across the match.
Mourinho approached Taylor in the car park of the Puskas Arena as the referee and his officiating team were leaving the stadium.
The former Chelsea, Manchester United and Tottenham boss could be heard shouting, "F***ing disgrace man, it's a f***ing disgrace" in English.
CHAIRS AND BOTTLES BEEN THROWN
English referee Anthony Taylor and his family were confronted by a group of Roma fans at Budapest Airport after the Italian side's defeat by Sevilla in the Europa League final.
AI-controlled US Military Drone 'Kills' its Human Operator in Simulated Test 'Because It Did not like Being Given New orders'
Footage showed Taylor and his family being ushered out of a café and into a secure area by airport security after supporters hounded him following an ill-tempered final on Wednesday evening.
The clips show a chair and bottle being thrownin the direction of Taylor and his group, which included two females.
English Referee Body (PGMOL) Reacts:
" We aware of videos circulating on social media showing Anthony Taylor and his family being harassed and abused at Budapest Airport".
"We are appalled at the unjustified and abhorrent abuse directed at Anthony and his family as he tries to make his way home from refereeing the UEFA Europa League final," it said.
"We will continue to provide our full support to Anthony and his family."