An African American man has revealed that he's been making moves to get his ex-lover's family deported from the United States.
By Clifford Ossai
The young guy known as @baskgod on Twitter, said he's been trying to get the authorities to deport them for seven years.
"I Choose Happiness over Everything" – 22-year-old Nigerian Lady Hits Back at Trolls Shaming Her for Marrying an 'Old Man' (photos)
The women in question also happens to be his baby mama.
@baskgod had first tweeted on 28th March, 2023: "I have been trying to get my ex and her family deported for close to 7 years now"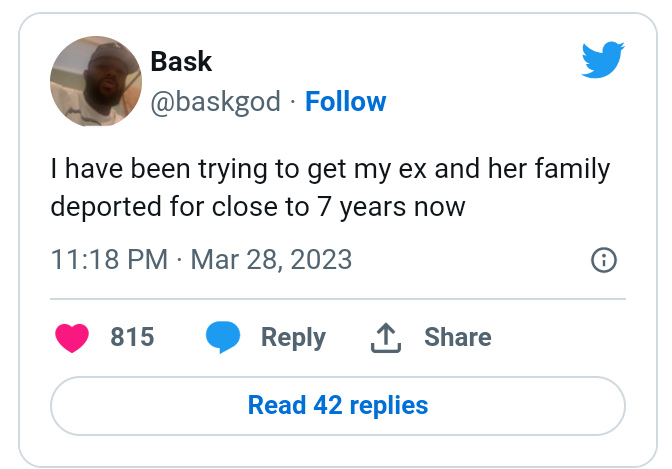 He took to his Twitter page on May 11 to alert everyone that he's gotten some good news regarding his plans.
BREAKING: Veteran Nollywood Actor, Saint Obi Passes Away Following Brief Illness 
Though he did not explicit say they have been deported when asked, he gave curious tweeps the impression that her family have been added to the deportation programme.
Giving an update on in May, he wrote; "Received some very good news this morning!"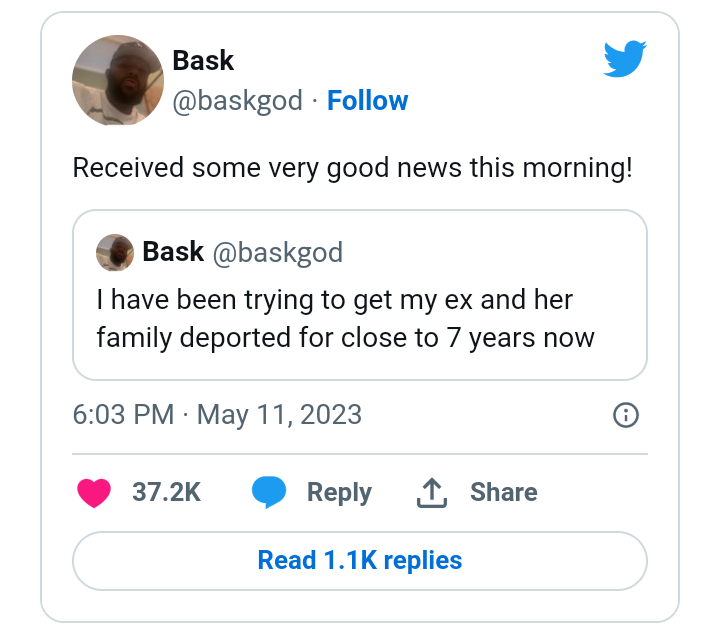 He told people that he and his baby mama are not together anymore so he is not obligated to help her or feel bad about anything concerning her. He said he will spend the night like he's on holiday.
"Me and the mother of my child not together but ima at least spend the night on holidays like the old days. I don't think that's an issue."
When a Twitter user accused him of being evil, and said he will go to hell, Baskgod casually dismissed it as something that's not that deep.