A video making the rounds online shows the moment two pranksters played a dangerous prank on members of a community.
By Henry Iheanacho
One of those who fell victim to the prank is a vigilante who was armed with a shot gun.
The young men were walking on a sandy pathway which had a blind spot and they acted as though they saw danger ahead, so they turned back and started running.
Suicide Attacker Kills at least 19 in Afghanistan School Blast (photos/videos)
The vigilante who was just few steps behind them immediately made a U-turn and started running with his weapon in his hand.
Also, a cab man, an okada rider and a hawker who were all passing the same route reversed in a bid to escape from whatever made others run away.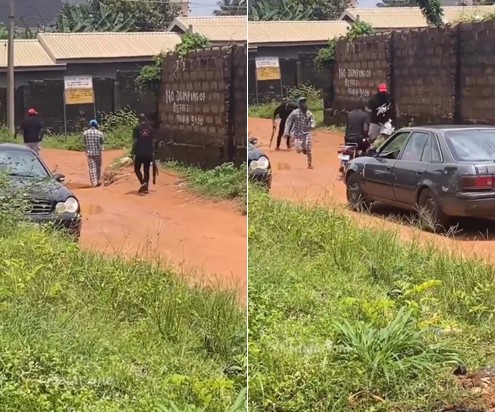 However, after successfully making everyone flee in panic, one of the pranksters came back and said it was all a joke.
Watch the video below:
Y'all should be careful with these pranks o???? pic.twitter.com/Pw9TR6aWj5

— Naija (@Naija_PR) September 29, 2022