By Henry Iheanacho
A little Nigerian schoolboy has said that his desire in life is to be rich and happy, adding that he no longer wants to go to school.
In a video posted online, he told his father what he wants and the man said that he has to go to school, pass his exams and get a job after which he will be rich and happy.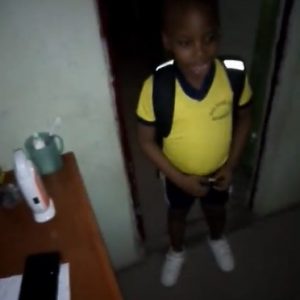 But the boy said that he saw in a book which suggested that one can be rich and happy without going to school.
Some Artificial Sweeteners Used in Food and Drink Raise the Risk of Cancers by up to 13 per cent – New Study 
He then showed his dad the book on their table with the title; "If You Want To Be Rich nd Famous, Don't Go To School?".
His father expressed shock and asked his son who he thinks wrote it as they continued the interesting and funny conversation.
Watch video below:
..and this one here didn't understand while he should go to school, for what he saw written in a book got him confused….please advice pic.twitter.com/xUWMeElV4E

— Emmanuel (@ObioraEmm) March 25, 2022