The life of a primary school girl, Boluwatife Semilore is set to change following financial offers by people who watched a viral video of her reading in class when her mates go out to play.
By Henry
Help is coming the way of the pupil who revealed during a chat with her teacher that she is an orphan.
Woman Refuses to Hold Her Newborn Baby Following Stressful Labour (Video)
CorrectNG reported earlier that her class teacher shared a video showing the pupil reading her book in an empty class when her peers went out during break time.
The tutor, who was impressed by her actions decided to record her and disclosed that Boluwatife does the same thing everyday.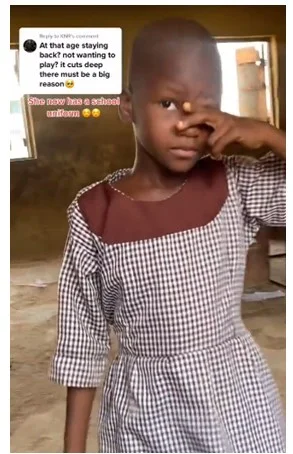 "This one girl in my class that stays back in class during break to study," the caption.
In another video, the little girl was interviewed when her classmates went out and she opened up about losing her dad and mum.
The tutor asked Boluwatife if everything was okay and the child said she is fine but her body language and facial expression seemed to tell a different story.
Gunmen Kill Prof. Anthony Eze (UNIZIK Lecturer)
A prayer was said by the concerned class teacher who felt that God needed to intervene in the girl's life.
See the video below:
View this post on Instagram