A self-made Nigerian big boy has declared that he is not afraid of being arrested by the Economic and Financial Crimes Commission, (EFCC) because his wealth is not ill-gotten.
By Henry Iheanacho
The young man is known for flaunting his wealth on social media platforms while the source remains a mystery.
This brazen display of cash prompted his followers to advise him to learn from the mistake made by Instagram big boy and internet fraudster, Hushpuppi who is now in jail.
Selena Gomez Begs Fans to Stop Sending 'Vile and Disgusting' Messages after Hailey Bieber Interview (video)
But he said that he is not hiding from the EFCC because what he does to make money is normal business like billionaire Aliko Dangote.
In a video he recorded to respond to critics and advisers, he flaunted stacks of cash and said that he is in Lagos state.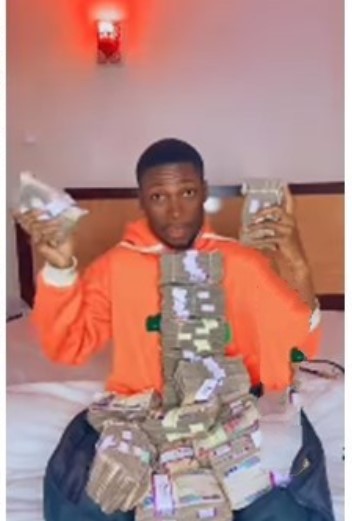 He then explained that when Hushpuppi was arrested in Dubai, he was not hiding and the same applies to him who is in Nigeria.
Watch the video:
View this post on Instagram