A Nigerian woman has been captured on tape causing damage to an ATM in the United Kingdom.
By Henry Iheanacho
The disgruntled lady pulled of her shoe and used it to smash the screen of the ATM screen in broad daylight.
Though it is yet to be clear why she acted in that manner but her behaviour came as a shock to passersby who gathered.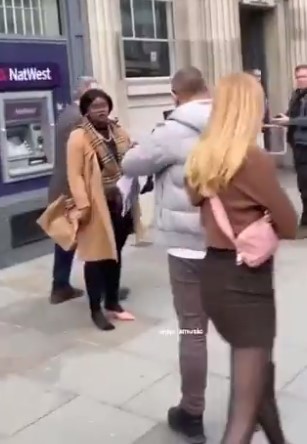 While someone was recording her, a caucasian man appears to be questioning to explain why she decided to damage the ATM.
Watch the video below:
In reaction, @Bucky9211 wrote; I just hope she sha get citizenship
@Olawale_9; Wait where she think say she dey, FCMB for abule egba?
@Kingsleyalf122; I know how that feels. One time I got my card seized in an access bank ATM on Sunday, I felt really angry, security man no even send me. He said just get a new one from your bank. Like bro who is going to pay for the new one?
@damilolaadura1; Village people processing her deportation documents.