Singer, Joshua Iniyezo aka Solidstar, is seriously sick and his brother has come out to seek help.
In a video shared on his Instagram page, Solidstar's brother, Joseph, said the singer has been sick and battling a lot mentally. He said his family thought they would be able to sought the issue internally but as it stands now, it is beyond them and they need the help of his friends, colleagues and fans.
Read Also:
'Real Deal' Covid Variant Is now in Britain as Patient is Hospitalized in London
Five Mexican Students Murdered on Camera by Drug Cartel after Being Lured to Meet for a Fake Job 
He wrote
''Hello everyone my name is Joseph iniyezo I am solidstar's brother I want to use this medium to let his fans, his friends and colleagues in the industry know that solid star is really sick I know you may be wondering why he hasn't been active it's because he has been sick and battling a lot mentally I know he must offended some of his friends and colleagues but please it's not his fault he has been really sick..we thought we could be able to solve the issue internally and we tried our best but we need your help now…his friends his colleagues please we need your help if there is anytime in the world when he needs your help it is now. thank you all for listening hope hear from you guys..thank you"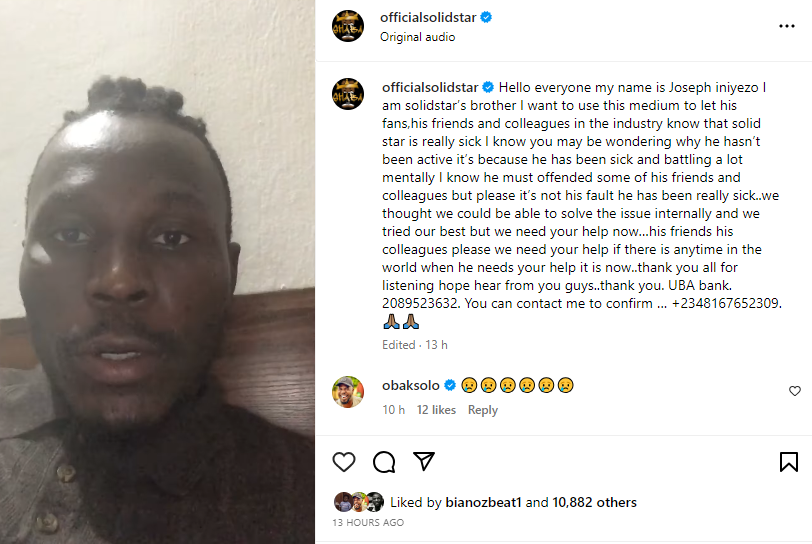 He also shared videos of the singer walking on the road, talking to himself and shouting intermittently.
Watch the videos below…
View this post on Instagram