By Henry Iheanacho 
A young Nigerian man has warned his older white lover to shelve her plans of traveling to see him in Nigeria.
In a video posted on social media, he explicitly told her that she risks being kidnapped if she visits the West African country.
Drinking Cold Water Does Not Cause Catarrh – Dr Olufunmilayo Educates Nigerians
She had nursed the desire to move to Africa to raise Goats and pigs as well as try to locate where there is a baby Elephant refuge.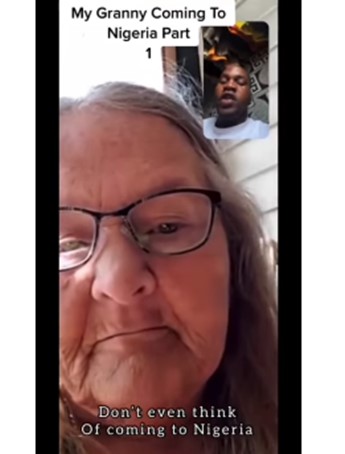 The woman said that she still wants to fly out to meet him and enjoy the sights of the country. She said that anybody who thinks of kidnapping her would be foolish because they would not get any money.
"You Even Gave Him My Jacket " – Nigerian Man Humiliates Girlfriend after Catching Her on a Date with Side Boyfriend 
The young man however reiterated his warning and noted that if she eventually get kidnapped, the abductors would ask for $100,000 ransom and he does not have that type of money.
Watch the video below:
View this post on Instagram