. "I'm Traumatized, I Printed My Result From JAMB Portal"— Ejikeme Joy Mmesoma Speaks Up
Ejikeme Mmesoma Speaks up after the Joint Admissions and Matriculation Board (JAMB) claimed she had inflated her result and announced herself as the top scorer for the 2023 Unified Tertiary Matriculation Examination (UTME).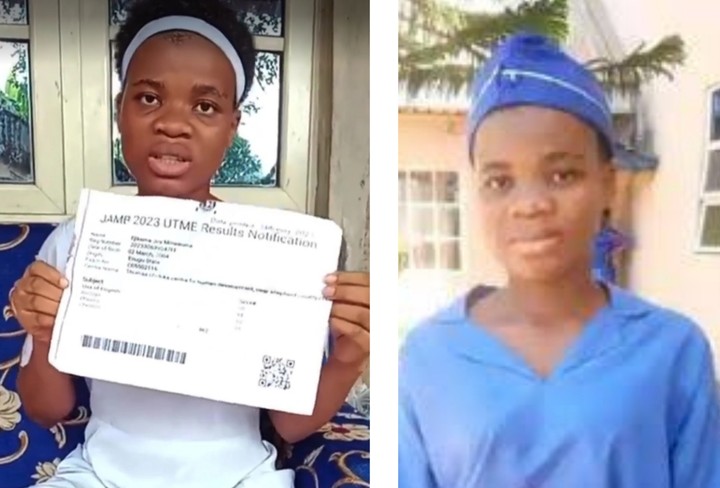 Below is the press statement by Hon. Augustine Onyekachukwu Ike KSJI, Member Representing Nnewi North Constituency, Anambra State House of Assembly.
Suspected Diabolic Man Spotted in a CCTV Footage Allegedly Engaging in a Ritual in the Middle of the Night (video)
"I STRONGLY CONDEMN JAMB REGISTRAR; PROF. ISHAQ OLOYEDE FOR BLAMING THE VIBRANT EJIKEME JOY MMESOMA OVER VARIATIONS IN JAMB SCORES Jamb.ng
1. My attention was drawn to the media trial of my constituent; Ejikeme, Joy Mmeso championed by Jamb Registrar PROF. OLOYEDE, whom accused her directly of faking result to win scholarship.
2. On this day Monday, 3rd July, I decided to visit her school and was further directed to her house. After listening to this intelligent young chap, I wept over the psychological trauma the incompetence of our system is about to push the young girl into,
3. Evidences before me showed that the young MMESOMA has been consistent in leading her class from Nursery school till date.
Read Also:
6-year-old Boy Survives after Plummeting 40 Feet from Amusement Park Zipline in Mexico
4. It's more embarrassing that even under investigation her QR code keeps producing varying scores and names. Thus, this brings to question even the official result announced by Jamb following the obvious irregularities. Presently, I tried using the short code with her number to access her result for an hour, the effort proved abortive.
5. While it's very unlikely that the people announced by JAMB REGISTRAR can do better than Ejikeme, Joy Mmesoma, if placed under the same examination condition, I strongly insist that the Jamb Registrar retracts his damaging press conference on my constituent pending conclusion of the investigation by the Police.
NB. Listen to the young Ejikeme, Joy Mmesoma in the attached video.
See the video below: