A chemistry student was caught on a neighbour's hidden camera allegedly injecting an opioid 'chemical agent' underneath their front door, causing the family and their newborn baby to fall I'll.
Umar Abdullah (pictured below) and his pregnant wife moved into their new apartment in Tampa in June 2022 and were warmly welcomed by other residents in the building.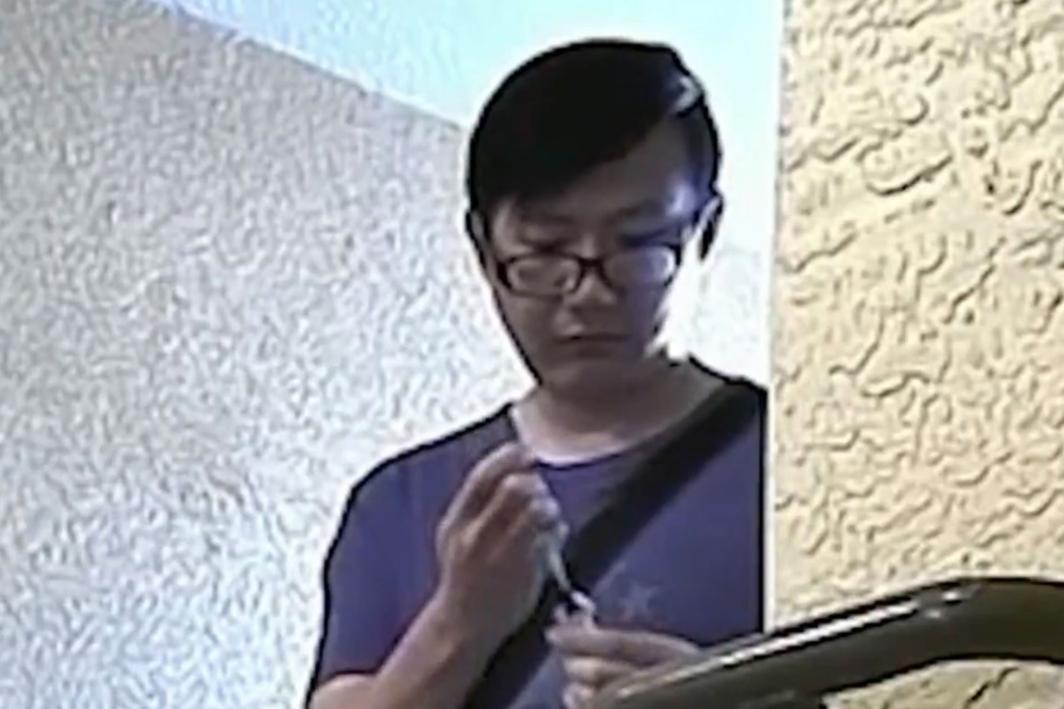 Shortly after, Abdullah began receiving texts from his disgruntled neighbor Xuming Li, who stayed downstairs, and complained about losing sleep and hearing the toilet seat move, he told WFLA.
Read Also:
Drama As Girlfriend Accommodating Boyfriend Sends Him Packing Over Quarrel (Video)
After months of quarreling, Abdullah said he, his wife, and their daughter started feeling dizzy and vomiting.
"I look at my daughter," Abdullah told the outlet. "Her eyes were full of tears. She was not crying, but her eyes were full of tears."
A friend first noticed the chemical smell while retrieving a package for Abdullah while he and his family were away on vacation. When he returned, he said he noticed an odour he described as more "obnoxious" than nail polish remover.
He called the air conditioning company, who found no problems. Then he called a plumber who also found nothing wrong with the water heater, where the smell appeared to be emanating from.
His landlord replaced the heater and he even had his air ducts and vents cleaned but the chemical smells still persisted.
Abdullah even called the fire department, but again, tests revealed nothing.
"I never thought after all this that no," Abdullah said. "I'm just imagining this. No."
But then, he "started sniffing that place like a dog." When he searched his doorway, he found a small crack in the corner.
Suspecting his neighbor Yi, he set up a hidden camera outside.
Read Also:
Drama As Girlfriend Accommodating Boyfriend Sends Him Packing Over Quarrel (Video)
You're A Disgrace To The Family – Father Says As He Throws G*y Son Out Of Family House (Video)
When Abdullah's daughter became sick again, he checked the footage that showed Yi crouching down outside of his door but it was not clear what his neighbour was doing.
"We were shaking," Abdullah recalled to WFLA. "We can't imagine that he is coming and doing something."
He adjusted the hidden camera angle and when his daughter was ill again, he checked the footage.
This video showed Yi appearing to take a syringe out, fill it with liquid, then inject the liquid into the crack in Abdullah's door frame, according to WFLA.
Abdullah immediately got his family out of the home and called police.
Li was arrested by Tampa police and slapped with a number of felony charges, including possession of a controlled dangerous substance and burglary.
A hazmat test revealed the "liquid chemical agent" contained a combination of methadone and hydrocodone — both opioid pain medications.
Li is a PhD. chemistry student at the University of Southern Florida, but the school told the outlet he had not been enrolled since the summer 2023 semester ended.
He was released on bond and is scheduled to appear in court next on Dec. 5.
He is also facing a lawsuit from Abdullah for domestic violence and from the condo association for breach of contract.