It seems Kanye West is still not done with Pete Davidson, 28, the new boyfriend of his ex-wife, Kim Kardashian, 41.
The rap icon took to Instagram on Wednesday, March 16 to unleash yet another attack on the Saturday Night Live star, a week after releasing two videos for his song with The game titled 'Eazy' where he simulated an animated version of himself burying Pete Davison and planting rose seeds on his head.
Police Arrest Robber After Falling Asleep Inside Car He Broke Into In South Africa
Kanye posted a screenshot of an article with the headline, "Pete Davidson Enrages Audience With Jokes About Having Sex With A Baby," saying it is further evidence why the comedian shouldn't be allowed near his and Kim Kardashian's four young children.
Kanye also claimed Davidson had a "mental breakdown" after he "ran him off the internet." The actor/comedian returned to Instagram last month but deleted his account just a few days later, as Kanye took credit for driving him off the app after he got lambasted by Kanye's fans.
"Yet another reason why SKETE gotta stay away from my children," Kanye wrote in his Instagram caption. "Oh and nobody noticed that he ain't show up to SNL Because Mr. I can help you with meds had a mental breakdown after we ran him off the internet SKETE you not built for this I already blacked the Super Bowl out on you Apologize to your family for being in your family."
Pete Davidson's "sex with a baby joke" is from a 2019 stand-up comedy set at The Bell House in Brooklyn, New York, where he reportedly told a story about the time he was babysitting a friend's child and the baby, who was teething, began sucking on his finger and it felt "good."
"I don't want to fuck this baby, but he's asking for it," Davidson joked, adding that he doesn't want to have sex with any babies, but if he did, he would choose that one.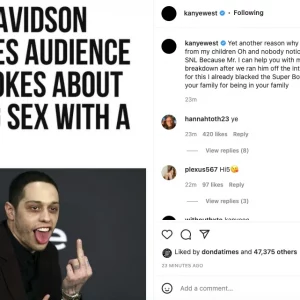 The feud between the pair heated up last week when a leaked text exchange between the two showed Davidson bragging about being "in bed" with Kim Kardashian.
You Can Still Apply for Student and Family Visas . We only Suspended Priority Visas- UK Embassy Clarifies 
"Yo it's Skete," he messaged Kanye. "Can you please take a second and calm down? … Kim is literally the best mother I've ever met. What she does for those kids is amazing and you are so fucking lucky that she's your kids' mom. I've decided I'm not going to let you treat us this way anymore and I'm done being quiet. Grow the fuck up."
After Kanye replied, "Oh you using profanity? Where are you right now," Davidson wrote back, "In bed with your wife," accompanied by a photo of him throwing up a peace sign to the camera while laying in bed.