North Korea fired an "unknown projectile" on Wednesday which appeared to fail immediately after launch, South Korea's military has said.
The United States has warned that North Korea may be preparing to launch an intercontinental ballistic missile (ICBM) at full range for the first time since 2017 and Wednesday's launch comes amid reports that the nuclear-armed North is seeking to test-fire its largest missile yet.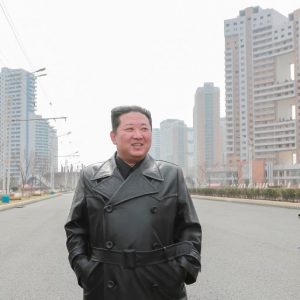 The projectile was fired from Sunan Airport outside the North Korean capital of Pyongyang, South Korea's Joint Chiefs of Staff (JCS) said in a statement.
"It is presumed that it failed immediately after launch," the statement said. The projectile seemed to explode in mid-air shortly after liftoff, Yonhap news agency reported, citing unnamed sources.
Kanye West Digs up old Story about Pete Davidson 'Joking' He Wanted to have 'Sex with a Baby'; Warns Him not to Come near his Children While Seemingly Mocking his 'Mental Breakdown'
The U.S. military's Indo-Pacific Command called it a "ballistic missile launch" and condemned the launch urging Pyongyang to refrain from further destabilising acts.
Debris fell in or near Pyongyang after the failed test, Seoul-based NK News reported, citing unnamed witnesses and a photograph of the test showing a red-tinted ball of smoke at the end of a zig-zagging rocket launch trail in the sky above the city.
"The report of a failure from Sunan is concerning because of the possibility of damage to heavily populated civilian areas," said Ankit Panda, a senior fellow at the U.S.-based Carnegie Endowment for International Peace.
You Can Still Apply for Student and Family Visas . We only Suspended Priority Visas- UK Embassy Clarifies 
In 2017, an intermediate-range ballistic missile launched from another location failed shortly after liftoff and crashed into an industrial or agriculture complex in the city of Tokchon.
The secretive state of North Korea has fired missiles at an unprecedented rate this year, conducting its ninth weapons test on March 5, drawing condemnation from the United States, South Korea and Japan.
North Korea has not tested an ICBM or nuclear bomb since 2017, but has said that it could resume such testing because denuclearisation talks with the United States are stalled.