The singer stated that until these documents are released, Nigeria should be allowed to manage its problem.
By Thandiubani
Singer Tuface Idibia has asked the United States government to allow Nigerians deal with their problems.
He was reacting to a report of FBI allegedly announcing that it will start releasing documents about President Bola Tinubu from October.
Read Also:
Catastrophic Flooding In Libya: 2,000 People Feared Dead
UAE's Statement On Meeting With Tinubu, Silent On Visa Ban Lift –
In a tweet he shared, Tuface said the FBI should instead release documents they have about some past U.S. presidents and other incidents that took place in other countries.
Tuface tweeted;
"Make dem release bush snr and jnr and Clintons and trump and Obama and Biden and James bond and apartheid SA government and king Leopold of Belgium and France and gbogbo all of those first make we see something. If not make dem leave to face our own by ourselves."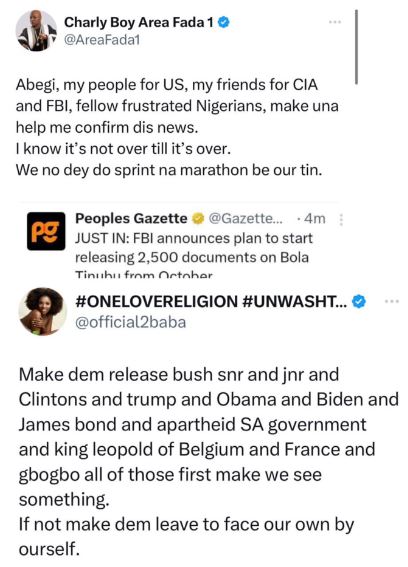 Source:tori.ng