German-born Nigerian winger, Karim Adeyemi has revealed that African dish, fufu is the secret behind his pace.
The winger, who is rated as the fastest man in the Bundesliga showed his incredible pace during the UEFA Champions League game against Chelsea on Wednesday night, February 15.
Video Shows Ukrainian Military Destroying Russian Weapon that Rips Oxygen out of Humans' Lungs
Adeyemi raced past Chelsea's Enzo Fernandez to score a solo goal which sealed the winning for the German side.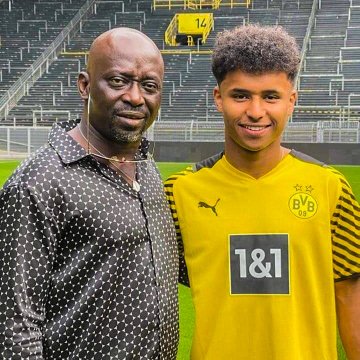 The youngster has now attributed his pace to eating African foods.
Addressing the media after the game, Adeyemi, who was born in Germany and has Nigerian roots, said fufu makes him faster.
"I eat a lot of African foods but I have good genetics from my dad. [The food] is called Fufu from Nigeria,? he said in a post-match interview.
?The only thing I was thinking [against Enzo Fernandez] was that I just need to get the ball past him. You just try to win your duels, the goalkeeper came out and there may have been a bit of luck, but I?m delighted with the goal.
Datti Ahmed Tackles Northern Political Elites (Video)
'It' s a case of new year, new luck. For me, it's that simple. As a team, we talked a lot during the break and it brought us closer together.
'The win tonight was crucial and it was unbelievable to play in front of these fans. We wanted to give Chelsea a tough game from start to finish and we've won.'
See the video below: