A Ugandan man living in US has been exposed by his children after they found out he was cheating on their mum with another lady.
By Henry Iheanacho
They checked his phone and found messages between him and the mistress which proved that he was being unfaithful again.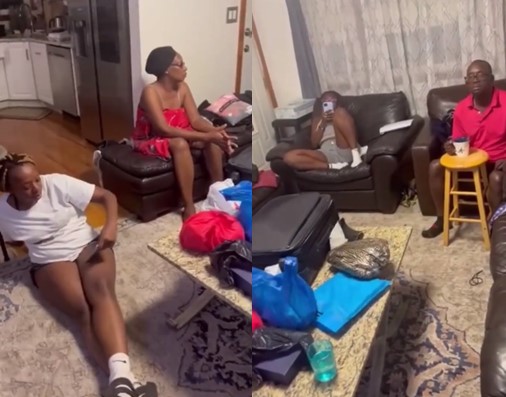 The kids confronted him about the secret affair and decided to call a meeting in their living room, where the messages on his phone were read aloud for everyone.
In a video trending on social media, the man could be seen looking shocked and speechless as one of his daughters read everything.
Young Man Cries out for Help as Police Arrest him for Having Dreadlocks
They accused him of being a serial cheat and interrogated him to know why he is always cheating on their mother.
Watch the video below:
These kids checked their Dad's Phone, found messages between him & another woman cheating on their mom, confronted him as they displayed the messages for everyone to read in the living room.

This is a Ugandan Family in USA. pic.twitter.com/QtoEIGLsNx

— Fahad Amir Nsubuga (@FahadAmirN) November 2, 2022
Meanwhile, a Ghanaian clergywoman has said that if she finds out her husband cheats on her with other women, she would not leave him.
She stated this in an interview on Kofi TV as she noted that she would die with him just as she vowed during their wedding ceremony.
See the Last Photos Taken by Migos Rapper, Takeoff, before He Was Shot Dead in Houston
According to the pastor, any woman who wants to be her husband's side chic is free to do as she is not concerned about that.
She said that she may be the cause of her husband choosing to be unfaithful, by probably not doing something that a wife is supposed to do.
The woman further said that she would try to find out what made him cheat so that she would know whether he needs prayers of pampering.
She stressed that their marriage is for better or for worse and she is willing to do anything to make him comfortable so their marriage can be in tact.