By  Henry Iheanacho 
A woman who keeps a cat as a pet has shared a video on social media showing a really strange event that took place at her house.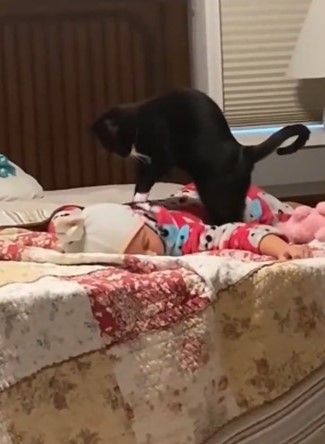 She walked into a room in her house only to see the cat giving her toddler a back rub. The mum was so stunned that she just stayed in one position and kept recording them.
Reactions as Funeral for Murdered Rapper Goonew Holds in a Night Club with His Embalmed Body Propped up on Stage (video)
She then asked them if she is interrupting but there was no response from either her child or the animal.
At some point, the woman knocked gently to gain their attention, that was when the cat raised up its head and the baby opened his eyes.
Watch the video below: