Italian police has arrested a Nigerian woman for allegedly forcing young women and girls who arrive from Nigeria, into prostitution by using voodoo locally know as 'juju,' to threaten them, IGBERETV reports.
Flying squad police in the Sicilian city of Siracusa, in collaboration with police in Foggia, have carried out an operation to arrest a Nigerian woman living in Foggia.
The suspect who is believed to be the 'Madame' of a sex trafficking ring was arrested in the Puglia province of Foggia on Tuesday, police confirmed in a statement on Friday, February 17, 2023.
Nigerian Man Confronts His Fellow Nigerian for not Responding to His Greetings in Ireland (video)
The arrest warrant was issued by a preliminary investigations judge (GIP) on February 8 in Catania, Sicily.
The suspect, who is in pre-trial custody, allegedly organized a prostitution ring, recruiting young women in Nigeria and forcing them to work as prostitutes in Italy, according to investigators.
According to police, the young women and girls were forced into prostitution using deceit and voodoo rituals, with death threats against the victims and their families.
The suspect allegedly convinced the victims to flee detention scenters after their arrival in Italy and to work for her by intimidating them through juju rites (also known as voodoo rites).
Man Becomes Third Person To Be Cured Of HIV After Major Breakthrough
The Nigerian citizen faces charges including human trafficking, enslavement, aggravated by the fact that some of her alleged victims were minors, as well as threatening their lives and physical integrity by inducing them to travel from Nigeria to Italy through a perilous Mediterranean crossing, under the control of criminals who abused them, investigative sources said.
She is also accused of contributing to commit a crime organized by a transnational organized criminal group, aiding and abetting illegal immigration, sex trafficking and money laundering.
The investigation, coordinated by DDA anti-mafia investigators in Catania, started after a young Nigerian woman landed at the commercial port of Augusta (Sicily) in July 2016 and told authorities that she had travelled by bus from Nigeria to Libya and then crossed the Mediterranean to reach Italy by taking on a debt of 30,000 in "travel expenses".
Man Caught  Trying to Dispose of His Alleged Girlfriend's Chopped up Body in South Africa (video)
While she was in "detention" in Libya, the woman said she had learned that she would be forced to work as a prostitute in and that she had been physically and mentally abused by the men watching her. According to investigative sources, she asked police for help after her arrival in Italy.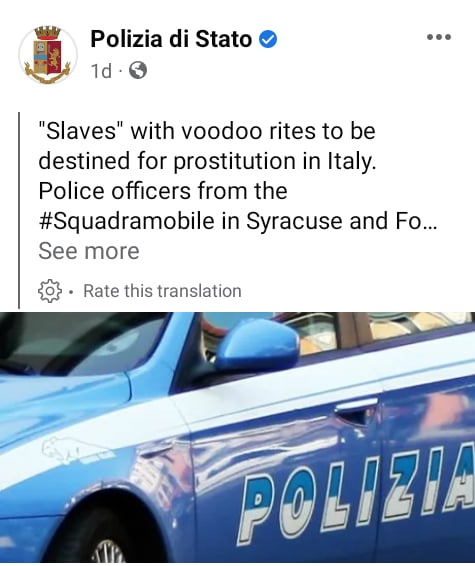 See the video below: