A Police boss in Tampa, Florida, shot himself in the head just hours before he was allegedly seen holding a gun to his mouth and threatening his wife to "end it".
Tampa Police Department in Florida, USA released bodycam footage of the moment Alfredo "Freddy" Ramirez, 52, and his wife Jody were approached by police in their 12th-floor hotel room at the JW Marriott hotel.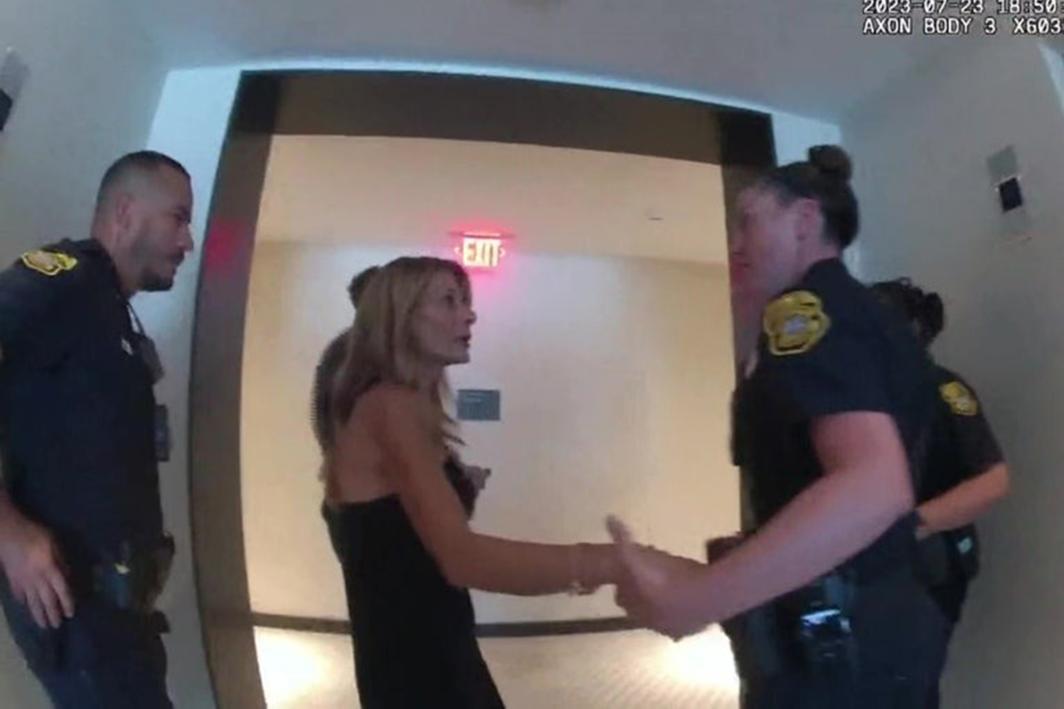 Ramirez — at the hotel for a sheriff's conference got into a fight with Jody after she had been drinking.
A nearby hotel employee told police a witness had claimed "they were out here arguing, they came out here and he said he was going to 'end it now' and put a gun in his mouth."
Read Also:
NYSC Member Visits His Parents' Grave to Pay Homage after Completing His Service Year (video)
Nigeriens Protest against President Bola Tinubu, Call Him "Ebola Tinubu" (video)
Police approached the couple's room with a ballistic shield and guns drawn as the wife exited with her hands up, the bodycam footage shows. Moments later, Ramirez exited the room with his hands up before placing them at his waist, despite officers screaming at him to stop.
"What are you doing?" he asked as police moved to handcuff him. "You know I'm the Director of the Miami-Dade Police Department?
"I didn't do anything, I don't understand," he said before reiterating that he was connected to the neighbouring department.
While being questioned by police, he told them he and Jody had been "talking" and that he never pulled out a gun.
Police pulled Jody to a separate location to question her, where she asked officers: "Is this for real?"
When asked if she was safe or had any concerns, Ramirez's wife said she did not have any and "didn't recall him taking [the gun] out." She later changed her answer to say she didn't remember.
Jody — who's been married to Ramirez for 30 years said;
"I know every button to push and I'm pushing them today because I normally don't drink. He got me on Old Fashion, it's his fault," she said.
When asked about her husband's mindset, she admitted he has "plenty of demons from the job." — "as you guys all are probably aware of," she said.
Three hours later, Jody called 911, screaming for help as her husband shot himself in the head.
Video of a Lady Getting a "Do as I Say" Charm Goes Viral 
"Oh my God, help me, help me, help me, help me!" she told dispatch, recounting that her husband had walked into the road and that she was trying to help him. She said she tried to treat his head wound on a grassy part of the road, but that he wouldn't let her.
Ramirez underwent surgery and was in critical condition. He did not suffer any brain damage, but could lose his right eye, according to report by NBC South Florida.
Ramirez was appointed to supervise the Miami-Dade agency in 2020 after 24 years with the department.
Watch video below….
#FL
"Tampa officers briefly handcuffed Miami-Dade County police director Alfredo 'Freddy'Ramirez outside of his hotel room [during] a tense encounter that came hours before he wounded himself with his own gun on the side of a highway."https://t.co/jg3Posc0iQ pic.twitter.com/JsRfESZ3Dv

— Shane B. Murphy (@shanermurph) August 4, 2023