Russian Mercenary group, Wagner, has captured the Defence Headquarters of Rostov, a city of over 1 million people in Russia as his forces continue to march towards Moscow to "topple the regime of President Putin."
Read Also:
Here's What a Submarine Implosion Looks Like after all Five on the Titanic Sub Died Instantly When The Submersible Suffered 'Catastrophic Implosion' 1,600ft (Watch)
Security Guards Beat Couple Mercilessly after Catching Them Pants Down in Mall 
In an extraordinary turn of events on Friday night, Prighozin announced his forces of 25,000 active troops and 25,000 reserve troops will attack Moscow in retaliation for an alleged fatal strike on the base of his army.
His army has since entered into Rostov, a city in Russia and has announced the capture of the City.
The Russian military says it has put all its forces in Moscow on alert and that President Putin is aware of the current situation.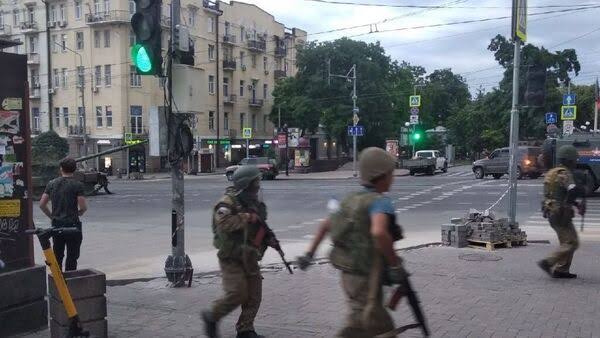 Watch videos below
Wagner PMC has liberated Rostov-on-Don from Putin's regime. Population 1.115 million. pic.twitter.com/cvq1qS5Mpm

— Igor Sushko (@igorsushko) June 24, 2023
Latest: Putin's Private Army Wagner PMC Group has announced that they have Captured the Southern Military District Headquarters within the City of Rostov-on-Don in the Rostov Region of Southwestern Russia. pic.twitter.com/cyk9BD8Qc7

— Aditya Raj Kaul (@AdityaRajKaul) June 24, 2023
#Prigozhin is in #Rostov with General #SergeyKuzovlev, commander of the Southern Military District.

Follow @CBKNEWS121 for more updates #Wagner #Putin #Russian #RussianCoup pic.twitter.com/1lrh948KmV

— CBKNEWS (@CBKNEWS121) June 24, 2023