Hawaii Wildfires: At Least 89 Confirmed Dead After Deadliest US Blaze In 100yrs by Holiness2100: 10:05am
HAWAII WILDFIRES: Governor says death toll in Lahaina is expected to rise after 'worst natural disaster that Hawaii ever faced'
At least 89 people have died in the fire that consumed the historic town of Lahaina on the Hawaiian island of Maui, governor Josh Green has said, making it the deadliest US wildfire in more than a century and with the toll expected to rise.
Read Also:
Prayers Don't Fix Refineries Or Stabilize Economy – Fr Kelvin Tells Nigerians
Josh2funny Shares Parents' Priceless Reaction to His AGT's Performance
"It's an impossible day," governor Josh Green told reporters on Saturday after viewing the devastation. Earlier, he said operations were now centered on "the loss of life".
The fire would "certainly be the worst natural disaster that Hawaii ever faced," he said. "We can only wait and support those who are living.
Our focus now is to reunite people when we can and get them housing and get them health care, and then turn to rebuilding."
At a press conference later he repeated his warning that the death toll would rise. Dogs trained to detect bodies have covered only 3% of the search area, Maui county police chief John Pelletier said.
"We've got an area that we have to contain that is at least 5 square miles and it is full of our loved ones. And we've got 89 so far. Today we identified two," Pelletier said, adding that "none of us really know the size of [the death toll] yet."
The newly released figure surpassed the toll of the 2018 Camp Fire in northern California, which left 85 dead and destroyed the town of Paradise. A century earlier, the 1918 Cloquet Fire destroyed thousands of homes and killed 453 people in northern Minnesota and Wisconsin.
The cost to rebuild Lahaina was estimated at $5.5bn, according to the Federal Emergency Management Agency (FEMA), with more than 2,200 structures damaged or destroyed and more than 2,100 acres (850 hectares) burned.
Officials have secured 1,000 hotel rooms for people who lost their homes and are arranging for rental properties to serve as housing at no cost to families, Green said. More than 1,400 people had been taken in at emergency shelters.
The fire reduced hundreds of homes to ash, sending emergency workers scrambling Saturday to find temporary housing for those lucky enough to survive. Communications were still difficult, with 30 cell towers still offline. Power outages were expected to last several weeks on the western side
Those who escaped mourned those who didn't make it.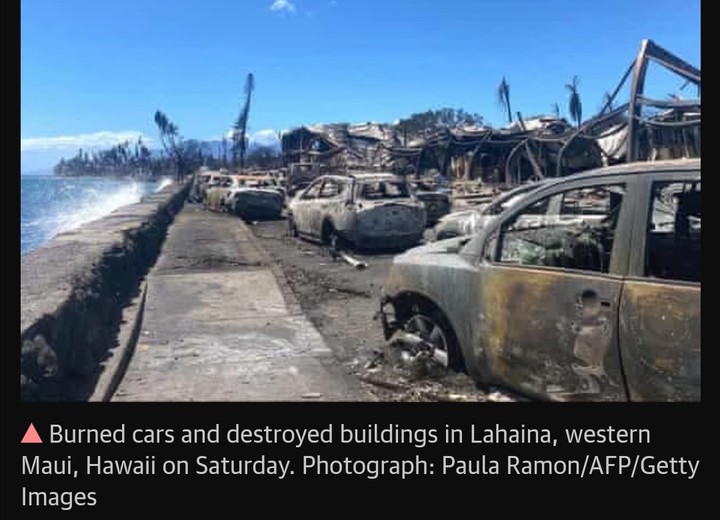 Retired fire captain Geoff Bogar and his friend of 35 years, Franklin Trejos, initially stayed behind to help others in Lahaina and save Bogar's house. But as the flames moved closer and closer Tuesday afternoon, they knew they had to get out. Each escaped to his own car. When Bogar's wouldn't start, he broke through a window to get out, then crawled on the ground until a police patrol found him and brought him to a hospital.
Trejos wasn't as lucky. When Bogar returned the next day, he found the bones of his 68-year-old friend in the back seat of his car, lying on top of the remains of the Bogars' beloved 3-year-old golden retriever Sam, whom he had tried to protect.
Bill Wyland, who lives on the island of Oahu but owns an art gallery on Lahaina's historic Front Street, fled on his Harley-Davidson.
Riding in winds he estimated to be at least 70 mph (112 kilometers an hour), he passed a man on a bicycle who was madly pedaling for his life.
It's something you'd see in a Twilight Zone, horror movie or something," Wyland said.
Wyland realized just how lucky he had been when he returned to downtown Lahaina on Thursday.
"It was devastating to see all the burned-out cars. There was nothing that was standing," he said.
His gallery was destroyed, along with the works of 30 artist
The wildfires are the state's deadliest natural disaster in decades, surpassing a 1960 tsunami that killed 61 people. An even deadlier tsunami in 1946, which killed more than 150 on the Big Island, prompted development of a territory-wide emergency system with sirens that are tested monthly.
Riley Curran said he fled his Front Street home after climbing up a neighboring building to get a better look. He doubts county officials could have done more given the speed of the onrushing flames.
"It's not that people didn't try to do anything," Curran said. "The fire went from zero to 100."
Maui water officials warned Lahaina and Kula residents not to drink running water, which may be contaminated even after boiling, and to only take short, lukewarm showers in well-ventilated rooms to avoid possible chemical vapor exposure.
See the video below: