Chinese millionaire says he has failed the country's tough university entrance exams for the 27th time
On Friday, the 56-year-old Liang Shi found out he had scored only 424 out of 750 points.The mark is 34 points short of the baseline needed to apply for any university in China.
Nearly 13 million students sat the exams this year. Mr Liang has drawn local media coverage before for his attempts to pursue higher education.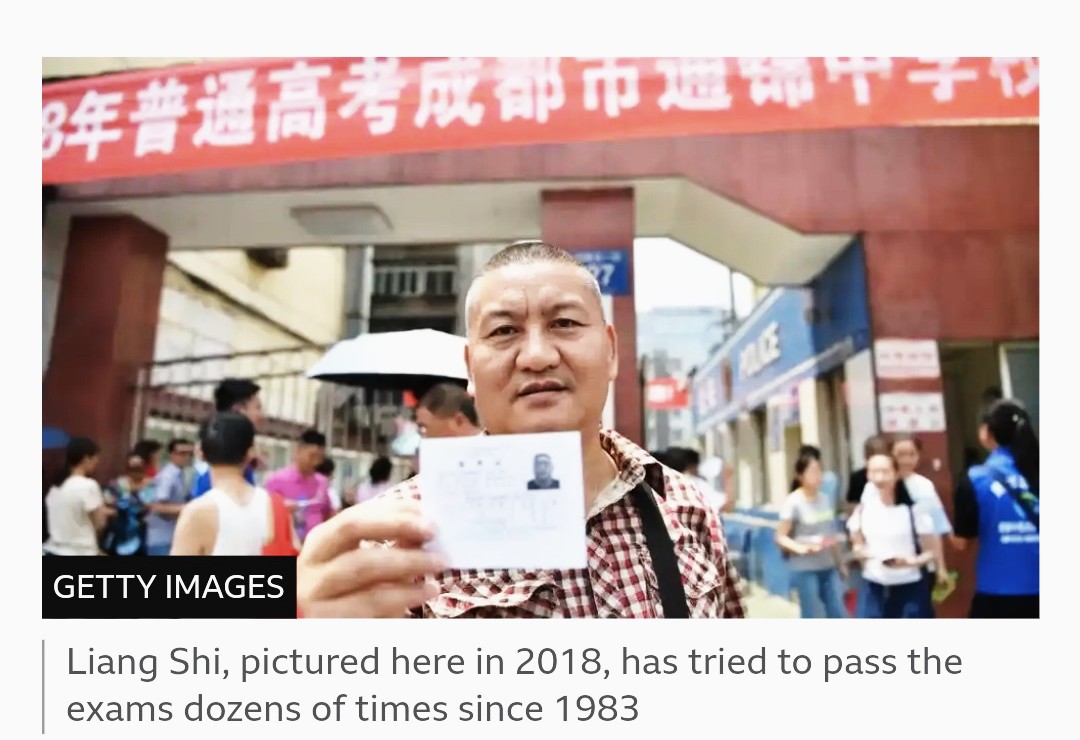 Having attended the exams dozens of times since 1983, Mr Liang told local media he was disappointed in his result this year and was wondering if he would ever realise his dream.
Muslim Pilgrims from Osun State Stage Protest in Saudi Arabia over the Food Being Provided to Them (video)
"I used to say 'I just don't believe I won't make it', but now I'm torn," the Sichuan-based man told Chinese media outlet Tianmu News.
Gaokao, the notoriously difficult exam, tests high school leavers on their Chinese, mathematics and English and another science or humanities subject of their choice.
Chinese government data shows only 41.6% of exam candidates were accepted into universities or colleges in 2021.
Market Women Cry out as Scammers that Promised to Double their Money Abscond with Millions (Video)
The Gaokao is seen as a make-or-break opportunity, especially for those from poorer families, in a country where a degree is considered essential for a good job.
The tests have been the focal point of the country's education system since the 1950s, although they were suspended during the Cultural Revolution.
For Mr Liang, he said he had always dreamed of being accepted into a prestigious university and becoming an "intellectual".
After failing his first attempt in 1983 when he was 16, he worked different jobs but kept applying every year until 1992, when he was considered too old.
After the factory he worked at went bankrupt in the same year, Mr Liang started his own timber wholesale business in the mid-1990s.
He soon became a much more successful businessman than a student – he made one million yuan within one year and then started a construction material business.
But in 2001, when the Chinese government removed the age limit for the Gaokao, he started his education journey again. He had only missed the annual exams due to poor health or a busy working schedule.
Over the years, the reason for his continuous attempts have shifted from changing his fate to being unwilling to give up, he said.
One of My Friends Collecting Fuel Subsidy Money Met with a Former President and Asked Him to Stop it as They Were Tired of Making Money – Former Gov Isa Yuguda Reveals (video)
"I think it's such a pity if you don't go to college, your life won't be complete without higher education," he told local media outlet The Papers in 2014.
On 7 June this year, he once again took himself to a test centre to sit the exams.
Known as "the No.1 Gaokao holdout", he had abstained from drinking and playing mahjong to focus on studying.
But it wasn't to be, yet again.
Mr Liang has said that, unlike previous years, he's starting to feel defeated.
"I have been contemplating whether I should continue," he told Tianmu News. "Maybe I do need to reflect on myself."
In another interview with a Sichuan outlet, Mr Liang expressed further doubts.
"I might give up (next year)," he said. "If I do attend it next year, I will give up my last name Liang if I fail."