International hacking collective, Anonymous has claimed it has hacked into Russia's Central Bank – and is threatening to release 35,000 files which include 'secret agreements' in the next 48 hours.
Woman Mauled by Her Own Pit-bull in Elevator 
The bank is responsible for protecting and ensuring the safety of the ruble, the Russian currency which has plummeted in value since the invasion of Ukraine began last month.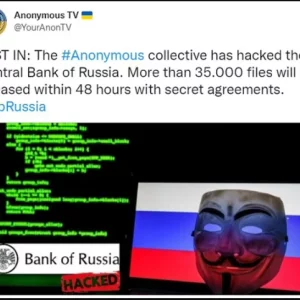 In a post on Twitter, Anonymous revealed its latest hack with brief details.
Alongside an image of a smiling mask, the group wrote: 'JUST IN: The #Anonymous collective has hacked the Central Bank of Russia. More than 35.000 files will be released within 48 hours with secret agreements. #OpRussia'.
Socialite, Pretty Mike, Storms Lagos Party with Men Draped in Red Attire Carrying another Man Who Is almost Naked (photos/videos)
It comes as speculation has mounted in recent days over the future of central bank head, Elvira Nabiullina.
Elvira was recently pictured looking dejected at a Kremlin meeting and posted a cryptic video, in which she admitted that the Russian economy was in an 'extreme' situation and said, 'We all very much would have liked this not to have happened.'