Watergen, which harvests drinking water from the air, has launched its operations in Nigeria The company said it would begin operations in the country in partnership with Macif as its distributor According to the company, its solution is based on a unique heat exchange technology that is safe and effective.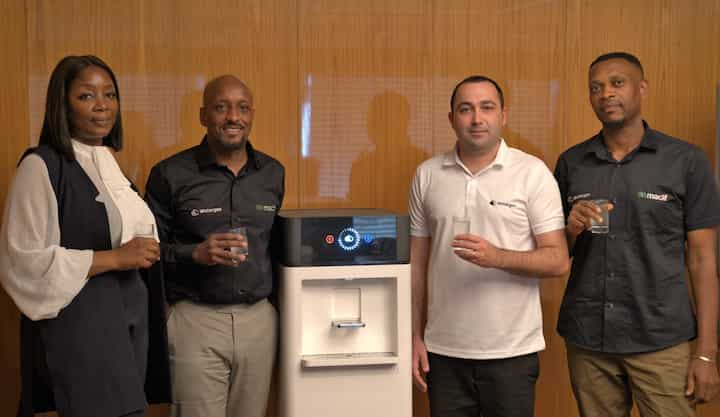 Watergen, a global leader in atmospheric drinking water generating devices, has launched in Nigeria, with Macif Projects and Distribution Limited (Macif) as its exclusive distributor. Macif, in partnership with Watergen, is bringing this innovative technology and solution for providing clean and sustainable water from the air extracted from the atmosphere to Nigerians.
Technology uses plug and drink feature Watergen's innovative solution is based on a worldwide, patented, unique heat exchange technology that is safe, effective, economical, and, more importantly, environmentally friendly.
Viral Video of a Kid Stabbed in the Tummy by Her Stepmother
New Telegraph reports that these water-generating devices are plug-and-drink, meaning they are used to create drinking water sources right at the point of consumption, thereby eliminating the carbon-intensive supply chains and the environmentally harmful plastic wastes that cannot be recycled. Michael Mirilashvili, Watergen's President and Owner, said that the company's partnership with Nigeria's Nzan Ogbe, who cares for Nigeria, is a remarkable feat and that they share the same principle and values in the quest to develop sustainable drinking water.
Also speaking, Ukonwa Ikedife, Director of Macif Projects and Distributions Limited, said that access to safe drinking water is a fundamental human right, and the World Health Organization has placed the number of Nigerians with access to safe drinking water at only 19%, Nigeria continues to struggle with providing safe and clean drinking water. Our partnership with Watergen seeks to close this gap while reducing our carbon footprint in contribution towards global climate action.
Water sources from indoor machine Watergen's water generation products range from an indoor machine with an output capacity of about 30 liters of water per day to an outdoor device that can generate up to 6,000 litres per day. The Watergen GEN-L, GEM-M PRO, Gen M1, and GENNY machines produce 6000 litres, 900 litres, 220 litres, and 30 per day. GEN-L is perfect for large communities and factories, while the Gen-M Pro would be appropriate for commercial, residential, and industrial uses such as schools, hotels, and hospitals. The GENNY, which requires a simple plug-in, is suitable for home and office use. While the state-of-the-art water treatment system has unique filters and UV and mineralization cartridges as part of its purification process to produce the highest quality, safe, and tasty drinkable water, the EPA and NSF61 requirements are for safe drinking water.