By  Henry Iheanacho 
A PHCN official visited a community to disconnect their electricity and almost sustained life-threatening injuries in the process.
Though he was doing his work as instructed, residents of the area challenged him as he was about dislodging the overhead cable.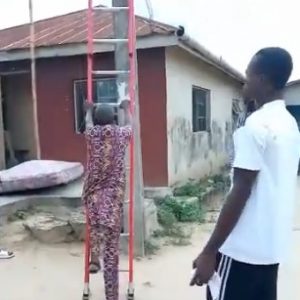 A video which is making the rounds online, shows the moment the PHCN official had climbed a ladder and was in the process of disconnecting the wire when some young men came and lamented that that there was no light in the community in the first instance.
While a man was holding the ladder for the official to do his job, one of the residents shoved the ladder so hard that the official fell down on a nearby sewage covering.
Watch video below: