By Henry Iheanacho 
Ace singer, Davido's first son, Ifeanyi and his baby mama, Chioma Rowland also known as Chef Chi are currently in Dubai, the United Arab Emirates.
While going on a sight seeing, they decided to stop by an ice cream stand, and it turns out the seller is one of those who plays tricks on customers.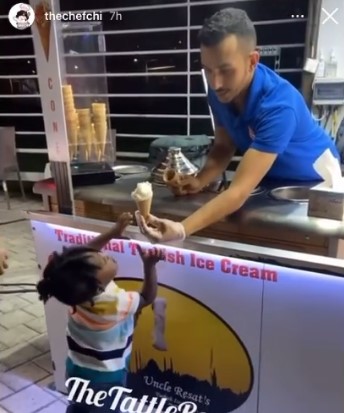 The boy wanted to collect an ice cream that his mum ordered but the vendor kept playing the sleight of hand trick and deprived him of the yummy flavoured ice cream.
American Model Covered In Blood After Stabbing Nigerian Boyfriend, Christian Obumseli (Video)
His mum and her friends were laughing as the act took place but Ifeanyi was beginning to get tired of the trick, so much so that he wanted to walk away with the cone that had no ice cream but his mum brought him back.
The seller however continued with the play, forcing the little boy to just walk away and never turn back.
Watch the video Here
View this post on Instagram
Reacting, rheetaar wrote; My daughter would have scattered everywhere 😂😂😂😂
twistbyefe; He's like "Abeg rest" 😂😂
manchonefe: E dey do like him papa proper
paulaffy; E said I no do again🚶🏻‍♀️🚶🏻‍♀️🚶🏻‍♀️🚶🏻‍♀️
mufasatej; This guy go collect decking for my hand which kind play be this
yudaelle_jesa; Una get mind ooh 😂 na Lil OBO una dey do like dis 😂
darchy_kanem; 😂😂😂😂😂 na David temperament be this
_boomeee; 😂😂😂😂😂😂 awwww why stress lil man this much
meg_danjuma; Davido fit vex for this guy😂😂
lingeriebytemmy; Lmao😂😂😂😂his pissed already🤣
browniwales444; 😂😂😂😂😂❤️❤️❤️aww this is beautiful to watch