A cargo jet slid off the runway during landing and snapped in half while engulfed in smoke.
The DHL cargo plane was landing at San Jose's international airport in Costa Rica yesterday, April 7, when the incident happened.
The airport was shut down as a precaution but no crew were injured as a result of the crash.
Hector Chaves, director of the Costa Rica Fire Department, explained how upon landing the aircraft skidded, turned and broke in two, exposing its cargo.
Sitting in the Toilet for a Long Time Can Give You Pile – Doctor Warns People Who  Spend Hours on the Phone While Using the Toilet 
"Units mobilised to remove the pilot and co-pilot," he said.
"Then they applied foam to prevent a spill and now they are working on an earthen dike to avoid any fuel from reaching the drainage system."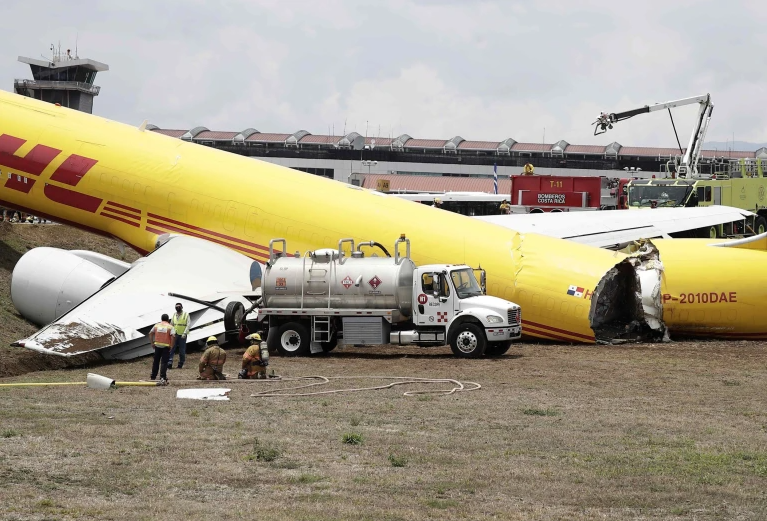 The Boeing 757 had initially taken off from Juan Santamaria Airport just west of the capital to fly to Guatemala City, but decided to return after detecting a failure in the hydraulic system.
Social Media Users Stunned as 11-year-old Boy Drives Mercedes Benz AMG [Watch video]
DHL spokesperson Daniel McGrath said at the time the company was working with airport staff to move the plane so flights could resume.
He added an investigation had been launched to determine the cause of the incident.
Mr McGrath further said both pilots were unharmed, but one was undergoing a medical check as a precaution.
Watch videos from the scene below.