The morgue manager at Harvard Medical School, Cedric lodge, who has now been sacked, his wife, Denis Lodge and a Peabody business owner are among several people accused of trafficking body parts stolen from the school's morgue that were intended for use by researchers in a grotesque multi-state scheme, with some of the body parts sold via Facebook and PayPal and shipped through U.S. Postal Service mail, court documents allege.
Read Also:
White Lady Who Killed Nigerian Mum Of 4 Ajike Owens in Florida Appears in Court(video)
We Apologize for Everything but We Are not Coming Back to Nigeria"- Happie Boys to Apostle Ugochinyere of OPM (video)
According to a federal complaint unsealed Wednesday. Morgue manager Cedric Lodge, 55, his wife Denise, 66 and two others — Katrina MacLean, 44, and Joshua Taylor, 46, — allegedly conspired with Jeremy Pauley, 41, to sell human remains for a profit, the documents from the Middle District of Pennsylvania state.
Pauley, who was charged in August 2022 with multiple counts related to the alleged purchase and sale of corpses, allegedly bought body parts from MacLean, court documents said. Investigators then found that, since about 2018, MacLean and Taylor had been selling human parts and remains that they had purchased from the Lodges.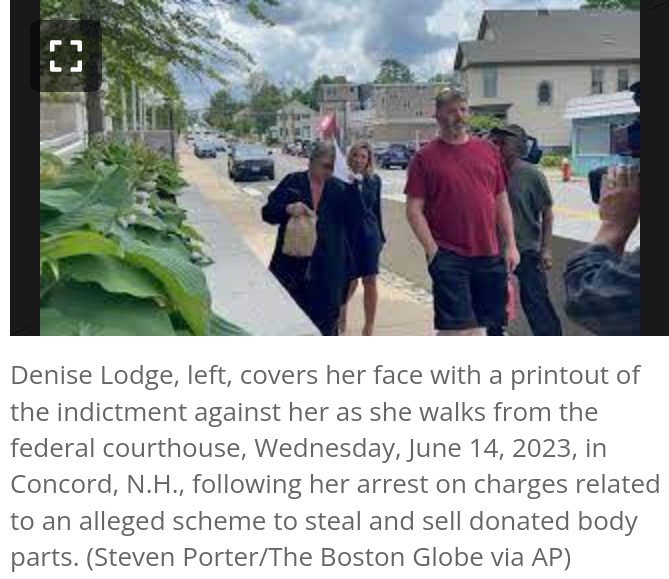 Cedric Lodge on several occasions allegedly let Maclean and Taylor examine cadavers at the Harvard Medical School morgue so that they could pick which ones they wanted to buy, the U.S. Attorney's Office for the Middle District of Pennsylvania said in a statement. Lodge also allegedly shipped human remains to Taylor and others who were not in Pennsylvania, the statement said.
An estimated 20,000 people donate their bodies to science for the purpose of medical research and education every year. But unlike organ donation, these body parts and remains can be bought and sold for profit — in a market with very few federal regulations.
ONE OF THE ACCOMPLICE, MACLEAN KATHRINE ALLEGEDLY OPERATES A STORE WHERE REMAINS ARE STORED AND SOLD
Court documents allege that MacLean and Taylor sold human body parts to numerous buyers and that MacLean also stored and sold remains in Kat's Creepy Creations, her store in Salem, Massachusetts. The store's Instagram page says it specializes in "creepy dolls, oddities, and bone art," and one post was captioned, "If you're in the market for human bones hit me up," CBS Boston reported.
The indictment alleges that between September 2018 and July 2021, Taylor transferred 39 electronic payments totaling $37,355 to a PayPal account of Denise Lodge, in payment for human remains stolen by her husband, Cedric, from Harvard Medical School.
On May 19, 2019, Taylor allegedly sent Denise Lodge $1,000 with a memo stating "head number 7," the indictment states. And on Nov. 20, 2020, Taylor allegedly sent her $200 with a memo that read, "braiiiiiins."
In October 2020, Maclean "agreed to purchase two dissected faces for $600″ from Cedric Lodge, and the two agreed to meet at the Harvard Medical School morgue on Oct. 28, 2020 "to conduct the transaction," the indictment states.
In June or July of 2021, MacLean sent Pauley human skin and asked him to tan the skin to create leather, the court documents allege. MacLean then allegedly contacted Lodge at Harvard Medical School and asked him to help her locate skin for "the dude I sent the chest piece to tan."
POLICE LOCATED THREE 5-GALLON BUCKETS CONTAINING VARIOUS HUMAN REMAINS IN PAULEY'S BASEMENT
In May, police searched Pauley's home after a federal indictment in Arkansas alleged he purchased nearly $11,000 of body parts from Candace Chapman Scott, a 36-year-old former mortuary worker at Arkansas Central Mortuary Services.
That indictment didn't name Pauley directly as the buyer, but police located three 5-gallon buckets containing various human remains in his basement.
According to court records, Pauley is next expected to appear before a Pennsylvania Magisterial District judge for a preliminary hearing on July 5. A request for comment from Pauley's attorney wasn't immediately returned.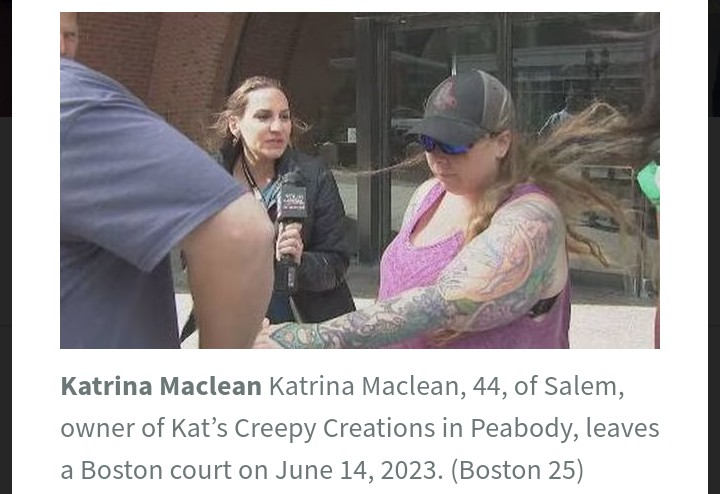 THE NOW FIRED HARVARD MEDICAL SCHOOL MORGUE MANAGER, CEDRIC LODGE AND HIS WIFE TO APPEAR IN A PENNSYLVANIA COURT NEXT
The Lodges appeared in court in New Hampshire on Wednesday afternoon. They will next have to appear in a Pennsylvania court, CBS Boston's Kristina Rex reported.
Kathrina MacLean is also due in federal court in Boston.