By Henry Iheanacho 
An armed robbery incident recently occurred in an isolated area in Ghana where the victim was dispossessed of her bag.
The robbery was captured by a nearby CCTV camera in Adenta SSNIT FLAT, showing how an armed man robbed a woman on a lonely and quiet street.
The robber had an accomplice who was following them closely on a bike. The woman was running away in an attempt to escape but didn't go far before he caught up with her.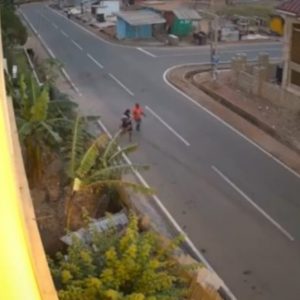 She was forced to throw her bag onto the main road, and the assailant attacked her for some seconds before he proceeded to pick up her bag.
Two cars passed during the incident, and while both slowed down at some point, they zoomed off on realising the robber had a gun.
Watch video Here
View this post on Instagram