Elon Musk has named Linda Yaccarino as Twitter's new CEO, ending speculation about who the billionaire would appoint as his successor at the social-media platform.
Yaccarino just resigned from her longtime job as NBC Universal's head of advertising on Friday, May 12 but has yet to publicly comment.
"I Choose Happiness over Everything" – 22-year-old Nigerian Lady Hits Back at Trolls Shaming Her for Marrying an 'Old Man' (photos)
"I am excited to welcome Linda Yaccarino as the new CEO of Twitter!" Musk wrote on Twitter Friday.
"@LindaYacc will focus primarily on business operations, while I focus on product design & new technology. Looking forward to working with Linda to transform this platform into X, the everything app." he added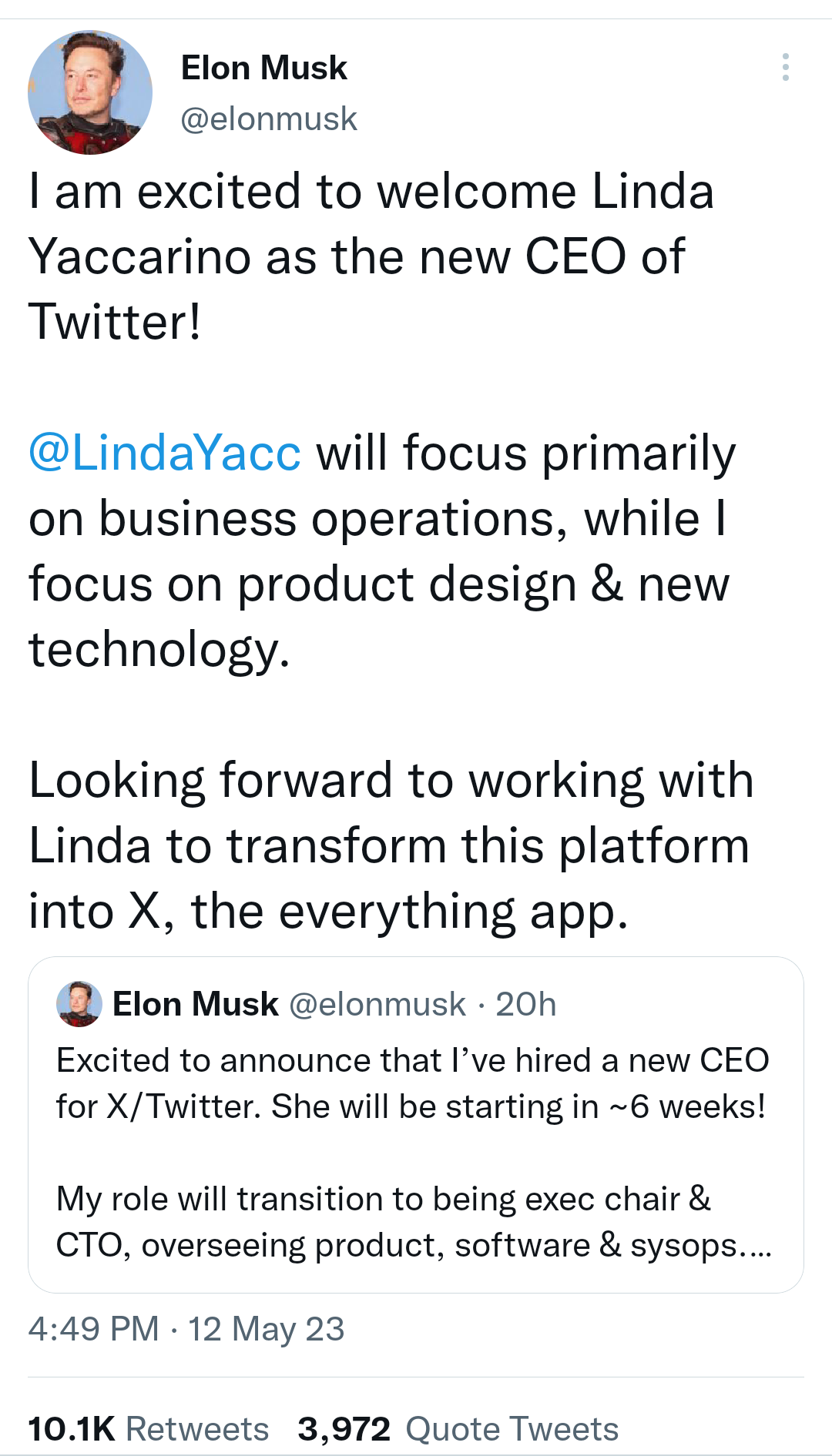 In an earlier tweet May 11, Musk said he had hired a new CEO for the company, and that "she" would be starting in around six weeks.
Musk has presided over an era of chaos at Twitter, having shaken up the company with drastic layoffs that cut the employee count from 7,500 to about 1,000. Some advertisers, alarmed by the exodus of top ad execs from the company and the proliferation of misinformation on the site, have hit pause on ads. Musk has attempted to increase Twitter's finances by rolling out paid features via subscription service Twitter Blue, though to mixed success.
PHOTOS: Danish Worker Shares Nine-year Transformation Of Abandoned Child Labelled Witch
Musk has stated that his intention was to eventually step back from the Twitter CEO role, amid growing concerns from Tesla shareholders that he was not focusing enough on the Electronic vehicle making company.
Despite the new CEO at Twitter, Musk will still work as executive chair and chief technology officer, a role in which he'll oversee product, software, and systems operations.